The SEIU's Odd Recipe for Unionizing Fast Food
It wants the big restaurant chains to pressure their franchisees to allow unions
By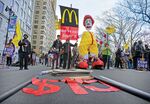 The Service Employees International Union, one of the nation's largest labor groups, is battling to organize America's fast-food workers. Since 2012 the union has spent more than $25 million on a campaign that's included backing lawsuits over alleged unpaid wages and racially motivated firings, promoting legislation to change the franchise system, and occasionally mounting attention-grabbing strikes. The goal is to put so much pressure on companies like Wendy's, Burger King, and especially industry leader McDonald's that they agree to raise pay and embrace unionization. There's only one problem: Almost all the people SEIU wants to organize aren't directly employed by the fast-food giants they've gone to war against.
Instead, the big chains contract out the management of most stores to thousands of small franchisees, legally distinct companies that hire the workers, run the business, and pass a cut of their sales back to headquarters. Most people flipping burgers under the Golden Arches don't get McDonald's paychecks, and even fewer will in the future, since Chief Executive Officer Steve Easterbrook's turnaround strategy for the chain includes increasing the global share of its franchised stores to 90 percent, from 81 percent now.
That hasn't stopped the SEIU and its allies from arguing in lawsuits and the media that McDonald's still exerts plenty of control over the cooks and cashiers at its franchised restaurants. As evidence, critics say the corporation sets a dress code, decides what software is used in each location so it can track how many people are on the clock, and dispatches "mystery shoppers" to make undercover visits and assess each store's compliance. By highlighting that close oversight, the union plans to persuade the public that corporate McDonald's should be held accountable for the wages and working conditions at its franchisees' stores—and help franchisees pay the costs of improving them. The SEIU has also brought union-busting allegations against McDonald's to the National Labor Relations Board, which is considering treating the corporation as a "joint employer" of franchised workers along with the franchisees. McDonald's has said treating it that way was a radical departure from precedent.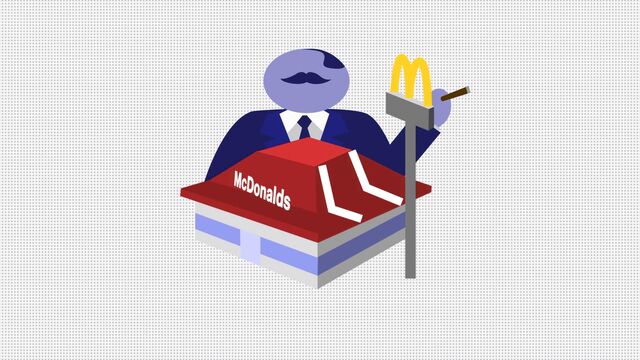 "The SEIU wants to alter the entire franchise model," says Steve Caldeira, president of the International Franchise Association, whose members include McDonald's and some of its franchisees. "It all comes back to money: The union's got to find their bacon somewhere, and they're using McDonald's."
McDonald's, which in 2015 raised pay at company-owned stores to at least $1 more than local minimum wages, didn't respond to requests for comment for this story. The SEIU declined to discuss its legal strategy. Scott Courtney, the architect of the SEIU's fast-food campaign, told reporters in May that McDonald's should return a portion of its billions in annual profit to franchises so they can pay workers more. "McDonald's is the company … that has the money and the power to change the system, and the franchisees are stuck just like the workers are," Courtney said.
As long as McDonald's isn't the franchised workers' boss, the National Labor Relations Act governing collective bargaining doesn't give them the right to negotiate directly with the corporation. The SEIU has instead tried to turn public opinion against McDonald's in hopes the chain will become more union-friendly to bolster its brand. "Everything about this is a little unusual," says Wilma Liebman, former NLRB chair, who's consulted for the SEIU.
The union has helped place embarrassing stories in national media on topics such as a sample personal budget McDonald's shared with employees that was based on working two jobs. It also has encouraged a European Union investigation of tax practices at the burger giant, which has denied wrongdoing. The bad publicity may be having an effect. On June 30, the American Customer Satisfaction Index announced McDonald's had received the lowest score among major restaurant chains in its annual survey.
The SEIU staff has also worked with disgruntled franchisees to push challenges to the industry's lucrative franchise business model. "We're in a position in which we need the assistance of any organization, for that matter, to help us get our point across to McDonald's corporate," says Jose Quijano, one of several franchisees in Puerto Rico involved in a local dispute with McDonald's. Quijano has joined the union in urging the Federal Trade Commission to investigate franchising.
Labor's strategy against McDonald's shows how union campaigns have changed as employment setups have grown more complicated. Starting in the 1980s, the SEIU successfully used a mix of strikes, media, and political pressure in cities such as Los Angeles, Washington, and Houston to squeeze commercial real estate owners to get the contractors cleaning their buildings to let employees unionize. "The Justice For Janitors strategy was: Go to the top of the food chain, or the economic pyramid, and figure out how do you put the maximum economic and social and political pressure on someone," says that campaign's architect, former SEIU strategist Stephen Lerner.

Adding "labor peace" provisions to franchise contracts, however, could be tougher. Under state franchise laws, franchisers like McDonald's usually can't change contract terms until franchisees renew, or when fresh franchisees sign on. Franchisees "either take it, or they leave the system," says Roger Schmidt, who teaches franchise law at Baylor University. McDonald's has 20-year contracts and 700,000 workers employed by franchisees, so phasing in changes could take many years if franchisees resist. Still, "if they can prescribe advertising, and cleanliness, and this whole list of things they obligate, they absolutely could prescribe what labor relations should be," says former SEIU organizer Lerner. Liebman, who's done legal work for the SEIU in the past, agrees: "One of the ways they could do it is to say, 'We want wages to be a minimum of X.' "
Union advocates say small franchisees could agree to bargain as a group with the SEIU, either regionally or nationwide. "The reason that multiemployer bargaining and coordinated bargaining might make sense here," says Paul Secunda, who directs Marquette University's labor and employment law program, "is because where we've seen multiemployer bargaining historically is in so-called itinerant industries," where workers often switch employers while staying in the industry. The Teamsters have negotiated contracts that apply across hundreds of companies. And even if McDonald's corporate wasn't at the bargaining table, it could shape what happened there by requiring certain benefits in its franchise agreements, or by defraying some labor costs by letting franchisees keep a greater share of revenue. "You put together a group of creative lawyers, and it happens," Liebman says.
That's not likely to occur any time soon. While the wage protests and government investigations have become a cause for concern, "from investors, definitely the pressure is to reduce some cost" while giving franchisees greater operating freedom, says Darren Tristano, who leads restaurant consulting at Technomic. As for the labor struggle, "that's one of those situations that makes sense to win the legal battle rather than compromise."
Even franchisees who've joined the SEIU to challenge McDonald's on other issues might reject union calls for more spending on employees. Says Luis Moyett, another of the franchisees in Puerto Rico collaborating with the union: "Right now, we cannot afford to increase wages, because we ourselves are in desperate straits."
John Dienelt, who teaches franchise law at Georgetown University, expects resistance to unions will remain fierce. Says Dienelt: "If McDonald's were to make a deal with either the NLRB or the union, you would see pigs flying across the sky."
The bottom line: About 750,000 workers at McDonald's restaurants are employees of franchisees. That makes unionization tough.
Before it's here, it's on the Bloomberg Terminal.
LEARN MORE