Leading Up to a Trainwreck
To market his new comedy, Judd Apatow took his comedians on tour
By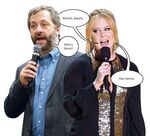 It seems like something producers might have done to promote one of the first talkies: send stars to do vaudeville routines in front of live audiences. That's what Universal did in late June to promote its big summer comedy. For Trainwreck—directed by Judd Apatow, written by and starring Amy Schumer, and co-starring Tilda Swinton and LeBron James—five actors and the director went to seven cities, doing a joint standup show to sold-out crowds. The Trainwreck Comedy Tour was both the most innovative and obvious way in history to market a movie. It reminded fans that the film was coming (on July 17), and "got more buzz about how funny Amy is," Apatow says.
While in college, he organized comedy shows, eventually producing HBO's Comic Relief. So Apatow figured that while Universal was sending them out for a press tour, he'd get the comics to perform. The studio pays for the trip anyway, so it wasn't a hard sell.
At Los Angeles's Wiltern Theatre, he started the show by introducing Norman Lloyd, a 100-year-old actor in the film, and showing a very short clip of him in a scene. That was the only overt advertising, other than three quick mentions in three hours. "People are seeing the trailers anyway," Apatow says. "We didn't want people to feel marketed to." There are no plans to sell footage of the event, though the website Funny or Die has some clips online.
Schumer rose up through the New York scene, so she cast her friends from the Comedy Cellar in her movie, including Dave Attell, Colin Quinn, and Mike Birbiglia. They all signed up for the tour, along with Saturday Night Live's Vanessa Bayer, who plays Schumer's co-worker. The comedy tour had more headliners than any other this year and a much broader mix than most: gleefully offensive Attell, curmudgeonly Quinn, chirpy Bayer, hapless Apatow, besieged Birbiglia, and indignant Schumer.
The performer with the least experience in front of an audience was Apatow, who stopped doing standup at 24, having never found much success. After directing the movie Funny People, about comics, he tried again and was much better, somehow making the problems of one of the world's richest, most successful filmmakers relatable. It's risky to do a bit about estate planning, but he made it confessional, saying he isn't willing to suffer in the coach cabin just to raise better kids. He now does a regular show at Largo in L.A. and gives the proceeds to charity. The ticket sales for the Trainwreck Tour likewise were donated—a different charity at each stop—raising around $1 million. The comedians performed for free—and often groused about it onstage, even as they insulted the audience for being rich, since the seats cost $45 or $100.
Doing standup in a big theater requires a different skill than playing a club. Bayer has a background in improv and, despite great impressions and smart jokes ("It's funny you can name your kid Christian, but you can't name your kid Jew. … Let's go, Jew! Get on the train, Jew!"), she sometimes had trouble reaching the back row. The others pulled it off, especially, surprisingly, Birbiglia, a stammering, disheveled favorite of NPR's This American Life. He talked about meeting Obama and asking for child-rearing tips, then hearing the president say, "That's some pretty good advice." He was amused that the leader of the free world needed to boost his own ego.
Attell and Quinn, the most experienced comics, brought attitude and punch lines, and Schumer closed the show sharply. In the movie, based on her life, she plays a lad magazine writer who drinks, can't commit, then meets Bill Hader and really likes him and handles it badly. Here, onstage, she dropped the cutesy asides and girlie outfits she once employed to soften her blows. She was self-deprecating—and incensed about being deprecated by others. And more than funny enough for a marketing event.
Before it's here, it's on the Bloomberg Terminal.
LEARN MORE