When Cliven Met Rand
The lightning-rod activist brings the candidate on board with the movement to end federal control of western land.
By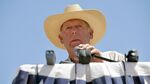 UPDATE: This story initially quoted Cliven Bundy's claim that he met with Rand Paul for "45 minutes," and a Paul spokesman denying that anyone at the event in question got 45 minutes. Since then, Bundy has admitted that the meeting was shorter.
In the year since he won an armed standoff with the federal government, Cliven Bundy has taken on a new and unfamiliar role: Politician. He's led a caravan of citizen lobbyists to Nevada's legislature. He's hosted at least one state senator at the Bundy Ranch. And this week, he got an extensive interview with Rand Paul. The Kentucky senator and presidential candidate stumped in Mesquite, just 15 minutes up the road from the ranch, and Bundy made the most of it. 
"I didn't ask for the time," Bundy told Bloomberg. "I was happy to just shake his hand. But between him and his staff, they were interested. After the meet-and-greet, they picked me out and took me in the back alleyway, and said we'd get time to talk. He dealt with the media, then they found a room, and we sat for 45 minutes."
Democrats and pundits lit into Paul. Nationally, Bundy's 15 minutes of fame were remembered for one thing: His on-camera ramble about whether African-Americans had been "better off as slaves" than as people "living under government subsidy." At the time, Paul had called the comments "offensive"—and yet here he was, talking to Bundy. Iowa's Democratic Party shamed Paul for talking to a man "who speculated that Black people were better off as slaves." Georgetown professor and MSNBC analyst Michael Eric Dyson called the meeting a "George Wallace moment," all the more offensive "in the aftermath of what happened in Charleston."
Sergio Gor, a spokesman for Paul's campaign, told Politico that "there were no scheduled meetings at Senator Paul's stop in Mesquite," and that the senator "spoke to many people who came to this public event, none for 45 minutes and none planned." In an interview with the Washington Post, Bundy reduced his estimate of the meeting time to "15 to 20 minutes."
In Mesquite, according to Bundy, the "slaves" comment did not come up at all. He didn't mention it; Paul didn't belabor it. The two men talked instead about how the 81 percent of Nevada that's currently owned by the federal government could be turned over to someone else. What had been a fringe cause for Bundy could become a wedge issue for the Republicans trying to win the February 2016 Nevada caucuses.
Paul demonstrated that in Mesquite. In an April interview with Bloomberg, before a campaign stop in Nevada, the senator said that he was still puzzling over what to do with federally owned land. He was inclined to sell some of it, but not all of it.
"I think the more private ownership the better," Paul said. "Initially, when the west was being settled, it was a big revenue raiser. The last time we had no national debt was like 1835, and a big reason was the sale of land in the west. I think there's also room for the government to be involved with protection of land in national parks. It's a balance. You want to have parks, but you don't want to have the government controlling all the land, either."
By the time Paul arrived in Mesquite, the caveats had vanished. Ryan Bundy, Cliven's son, introduced himself in a Q&A and said that the 2014 standoff against the Bureau of Land Management "brought to light some important things." According to Bundy, there was "simply no place in the United States Constitution that allows our federal government to own land, period." What, he asked, would Paul do as president to acknowledge that?
"I'd either sell or turn over all the land management to the states," said Paul. The room burst into applause. "You run into problems now with the federal government being this bully, this big, huge government bully. You would have less of that if you had more local control of the land. State ownership would be better, but even better would be private ownership." 
When he spoke to Cliven Bundy, Paul expanded on that by citing the positions of the American Lands Council, a conservative group campaigning to "secure local control of western public lands by transferring federal public lands to willing States." Founded in 2012, run by Utah Republican state Representative Ken Ivory, the ALC had nudged western, Republican-run legislatures to pass bills endorsing the transfer. 
"Before we sat down I don't believe he understood the difference between Cliven Bundy's stand and Ken Ivory's stand," Bundy said. "I believe that the sovereign state of Nevada does own its land, and has since the moment of statehood. He kept saying it was gonna be quite a problem for the government and legislatures to accept we were a sovereign state. He kept that saying if he was president of United States he would be happy for Nevada to own land, but he felt like the state would a have responsibility to maintain it—but I claim the right of all citizens to use the land."
Bundy and Paul did not overcome their philosophical differences. The meeting, Bundy said, was "tense." Bundy's view of the Constitution stood apart from the view favored by ALC, by the American Legislative Exchange Council, and by most Republicans who favor selling off land. 
Those Republicans are gaining ground. As Christopher Ketcham reported this year, some western Republicans in Congress have written legislation along ALC's lines. The Disposal of Excess Federal Lands Act, introduced by Utah Representative Jason Chaffetz, would direct the BLM to "offer for disposal by competitive sale certain federal lands in Arizona, Colorado, Idaho, Montana, Nebraska, Nevada, New Mexico, Oregon, Utah, and Wyoming."
Texas Senator Ted Cruz—like Paul, a candidate for president—introduced an amendment to the Sportsmen's Act of 2014 that would have yanked away more than a third of third of the government's Nevada land claims: "Notwithstanding any other provision of law (including regulations), covered land shall not comprise more than 50 percent of the total land area of a State."
Before Bundy's "slaves" gaffe, he was becoming the populist face of the movement to claw back land rights. His meeting with Paul, for all the negative attention it drew, emphasized how relevant the movement still was. His own theory of sovereignty yanked the debate to the right. It created more space for the ALC/Paul stance—once extreme, now comparatively moderate.
Certainly, nobody was going to get to Bundy's right. In April, Bundy invited veterans of the 2014 standoff to a reunion barbecue on his land. Over a long, hot Saturday, more than a hundred supporters sat in the shade of the bridge where some had aimed sniper rifles at the feds. They listened to poetry and music about the standoff, and ate beef from the cows that grazed on the disputed land. They danced along with Bundy to the tune of Woody Guthrie's "This Land is Your Land." They even heard state Representative Michele Fiore describe how AB408, a bill that would have transferred control of Nevada's land from the feds to the state, had grown out of their revolution.
"If the rest of my peers, and the rest of this nation, could take a history lesson from this family, we would not be in the fight we're in with the federal government," said Fiore. "The determination that the Bundy family has inspires me to stand my ground."
Days later, Fiore faltered. She had no choice. Her Republican colleagues found most of AB408 unconstitutional, and watered down the bill, over Bundy's objections. Even then, it could only command eight votes. That cleared things up for Bundy: He had to educate the country about his interpretation of the Constitution. He'd supported Ron Paul for president in 2012, but he would remain neutral in 2016, all the better to have honest conversations with the candidates.
"I would like to meet with them," Bundy told Bloomberg. "If they seek me out, I sure will sit down and talk. I want them to understand the Constitution of the United States, because according to the Constitution, the federal government can't own this much land. It's actually only entitled to 10 miles square."
Bundy considered the Paul sit-down a success. He'd given no ground. He'd even been able to tell Paul about why "contracts between the federal government and individuals need to end." As far as he could tell, the Paul staff in the room seemed to hang on his words. After he finished describing the meeting, Bundy left Bloomberg with a request.
"If you write this up," he said, "I wish you would call it 'the sovereign state of Nevada.'"