Photos Allowed on White House Tour After Four-Decade Ban
Toluse Olorunnipa and Margaret Talev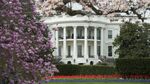 Now you can take selfies on the White House tour.
Visitors strolling through the executive mansion will be allowed to take photos for the first time in more than four decades. First Lady Michelle Obama announced the policy change, effective immediately, in a video posted Wednesday on Instagram.
Until now, visitors taking public tours of the White House would encounter multiple signs that read: "No Photos or Social Media Allowed."
"If you've been on a White House tour, you may have seen this sign," Mrs. Obama says while holding up the placard in the Instagram video. "Well, not anymore."
She then rips the sign in half.
The Secret Service has enforced the ban in the past to protect the president from potential security breaches. The public tours, which must be requested through a member of Congress or White House officials, allow visitors to see the East Wing and West Wing of the building.

The White House is encouraging people to post images of stops on the tour -- such as the Red Room, East Room and State Dining Room -- on social media with the hashtag #WhiteHouseTour.
The first lady has taken steps to expand public access to the White House, including adding the Old Family Dining Room to the public tour earlier this year.
While cameras are now permitted on the tours, so-called "selfie sticks" remain banned, as are cameras with lenses longer than 3 inches.
Tourists visiting the White House on Wednesday began snapping pictures immediately.
"We're so excited," said Cinnia Kitterman of Boise, Idaho, who was celebrating her birthday with a White House tour with her husband and two sons.
They saw a segment on the morning news about the end of the photo restrictions, so they brought their camera, she said.
"This president has allowed so many more freedoms for our country," Kitterman said.