Bkr Tries to Make Drinking Water More Chic
The making of the next cool water bottle, an oddly trend-driven category
By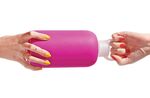 There is nothing Bkr's water bottle does that others can't. Yet the reusable glass canteen, sheathed in one of 60 colorful silicone sleeves, has emerged as a hot summer accessory. They're popular among the same women who buy into sporty style trends—athleisure, as they call it—wearing $300 Lucas Hugh leggings, even when they're not on the way to a $40 ModelFit class. The Bkr (pronounced "beaker") works with a pair of Nikes, just as an oversize four-figure handbag once did with Manolo Blahnik heels.
At Neiman Marcus, the bottles ($42 for the liter size; $30 for 500ml) are sold on the beauty floor alongside floral Tom Ford perfumes and thickening mascaras from South Korean cosmetics companies. "Any place where it doesn't feel like buying a Bkr is a treat isn't right for us," says Tal Winter, who co-founded the brand in 2011 with Kate Cutler. "Our girl isn't getting herself a fabulous thing in the home department. She's buying 15 lip glosses. She keeps sweaters in her stove." Sales have increased at least 114 percent every year, due mostly to online retail.
"Water bottles have become kind of a status item," says Peter Leighton, chief executive officer of consulting firm Abunda Solutions. "Thought leaders are paying more to make a statement with them."
Reusable plastic bottles, first sold in the late 1940s, remained expensive until the 1960s, when cheaper high-density polyethylene was developed. Nalgene bottles were originally made of this material and used by hikers and Boy Scouts before becoming widespread in the early 2000s on college campuses.
Worries about the plastic-binding chemical bisphenol A (BPA) inspired metal versions—from brands such as Hydro Flask and Klean Kanteen—and glass ones from companies like Lifefactory. All of them cater to those who feel guilty about toting a disposable bottle. "Our customer was drinking Evian," Winter says. "We wanted to be just as sexy as plastic water bottles."
The founders, who met as students at San Francisco's Hastings College of Law, used to drink those throwaway options. Winter kept a flat of Fiji water in her trunk. Then they heard about studies linking BPA to a litany of health concerns, such as obesity, diabetes, and problems with fertility. (The U.S. Food and Drug Administration says BPA is safe for humans at the levels to which people are exposed.) "We knew we were addicted to the little plastic bottles," Cutler says, adding that other options weren't chic enough: "We weren't going to hike up the side of a mountain or go camping."
While working grueling, boring law firm jobs, they raised $200,000 in venture capital to start the company. "I'd be at work in a purple animal-print DVF dress thinking, 'There's got to be something more fabulous,'" Cutler says. They hired a team of Stanford engineers, who introduced them to manufacturing partners in Shenzhen, China, where thousands of the bottles are now produced each month.
The founders treat Bkr as if it's a fashion brand, releasing new collections in names and colors such as Lolita, an opaque blackberry, or Detox, a dusty mint. It has a small mouth to mimic the feel of an Evian bottle, and a no-leak seal. "We worked so hard to make it so it won't leak into your Prada," Winter says. Bkrs show up often in tabloid photos of Gisele Bündchen, Charlize Theron, Blake Lively, and other celebrities—not just because they have a good publicity firm, the founders say, but also because they filled a market need.
Water bottle trends are already changing, though. The HidrateMe, announced in June and set to be released in December, connects to your smartphone, monitors your water intake, and alerts you when you're not drinking enough. As might be expected, it's kind of ugly.
Before it's here, it's on the Bloomberg Terminal.
LEARN MORE