politics
U.S. and Brazil Make Climate Pledge as Paris Momentum Builds
Justin Sink, Jim Snyder and Alex Nussbaum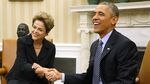 The U.S. and Brazil issued new commitments Tuesday to promote renewable energy and prevent deforestation as large nations lay the groundwork for a global climate deal in Paris later this year.
While the announcement doesn't include specific targets from Brazil to reduce carbon dioxide emissions, the country is pledging to sharply increase its share of renewable energy, up to 33 percent of its total energy mix by 2030. That includes both for transportation fuels and electricity generation. The joint statement was issued as Brazilian President Dilma Rousseff visits President Barack Obama in Washington this week.
Both countries also pledged to increase renewable energy use in the electric grid to 20 percent of the total by 2030. Brian Deese, a senior adviser to Obama, said for the U.S. that will represent about triple the electricity generated by non-hydro renewables now.
The pledges are "new and significant," Deese told reporters on a conference call Tuesday.
Brazil also said it would take steps to blunt the environmental impact of its agricultural practices, by restoring 12 million hectares (30 million acres) of forests by 2030, roughly the size of Pennsylvania. Deese said the goal holds particular significance given that Brazil is home to the world's largest rainforest.
Climate analysts see the protection of the Amazon as critical to addressing climate change risks. Trees absorb carbon dioxide, the most prevalent greenhouse gas, out of the air.
Emission Targets
While Brazil has achieved its own goals of reducing greenhouse emissions from deforestation and plans to cut CO2 output by at least 36 percent from the level it's at in 2020, the country is still to pledge a reduction target to the UN for the global talks.
"Brazil's foreign policy is following a cautious strategy, waiting for the commitments of other countries before shaping its own commitment," Paulo Artaxo, a University of Sao Paulo professor and member of the United Nation's Intergovernmental Panel on Climate Change, said by telephone from Sao Paulo. "This is a question of political negotiation."
(Updates with comment from member of UN panel in last paragraph.)
Before it's here, it's on the Bloomberg Terminal.
LEARN MORE