The Definitive H&H Chris Christie Scouting Report
He may be the most charismatic campaigner in the race—but are Bridgegate, his state's economy, and his temper too much to overcome?
By and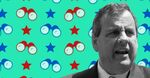 What he's got: The biggest, brusquest, most boisterous personality in the GOP field; unparalleled political brawling skills; executive experience as two-term governor of New Jersey; a set of first-term accomplishments, working his will with/over his state's Democratic legislature, to score victories on taxes, budgets, and pension reform; demonstrated ability to win election in a deep-blue state with strong support from Hispanic and African-American voters; a potentially potent national donor network; a substantial, growing, serious-minded policy agenda; high name recognition; regular-guy relatability; media savvy galore; and a ready sense of humor (including a capacity, when it suits him, for self-deprecation).
What he lacks: Polling strength nationally, in the early-voting states, or at home, where his approval rating has dipped to 30 percent; with indictments issued and investigations ongoing, ability to put Bridgegate behind him fully; a convincing explanation for his state's fiscal and economic woes (nine credit-rating downgrades since he took office, an unemployment rate one full point above the national average, a derisory 0.4 percent growth rate in 2014) in spite of those first-term wins; notable or broad backing from the sort of establishment Republicans who once pined for him to run; a path to the nomination that doesn't require winning New Hampshire; national-security credentials; consistent calibration of his trademark outbursts so that they come across as candid and refreshing rather than arrogant and obnoxious. 
Biggest question mark: Through a combination of town-hall doggedness and debate-stage pyrotechnics, can he cause Republican voters to look at him anew and propel himself back into the realm of plausibility?
Message: "Telling it like it is."
Signature issues: Reform, reform, reform—of the tax code, entitlements, public-sector pensions, national defense.
Core constituencies: Moderates, populists (by temperament), Northeastern white ethnics, lovers of give-'em-hell tough talk.
Fundraising mojo: A buck-raking powerhouse in the 2012 and 2014 cycles, during the latter of which he served with great success (to the tune of $75 million raised) as Republican Governors Association chairman; no longer the darling of the donor class, having suffered bundler disenchantment and defections in the wake of Bridgegate, though the extent of the damage—as well as his potential with small donors and online—remains unclear.
Spouse and family: Investment-banker wife Mary Pat is politically astute and fiercely protective of her husband's public image; with their four children, aged 12 to 22, they make up an appealing brood, which the governor often invokes when talking about his education reform policies or telling regular-guy tales. 
Perceived electability as Republican nominee: Once upon a time, and in theory still, held out the possibility of picking the Democratic Electoral College lock by putting a raft of blue states (especially in the Northeast) in play for the first time in a generation; but questions about temperament, how well he would stand up to full-bore national press scrutiny, and how well his personality would wear with the electorate over time inspire serious doubts among handicappers. 
National-security credentials: To beef up his minimal foreign-affairs resume and bolster his hawkish foreign-policy views, made a three-day trip to Great Britain in February, only to have the journey overshadowed by his comments on vaccinations; previously visited Canada and Mexico without incident (and/but to little effect); beyond travel abroad, few conventional bona fides. Has made a show of consulting with foreign policy sages such as Henry Kissinger. 
Television skills: When on his game, best in show, with charisma, charm, and red-light skills to burn; when off his game, can come across as way too hot, on the verge of volcanic eruption.
Social media/online chops: With 535k followers, behind Donald Trump, Marco Rubio, and Rand Paul, but ahead of Jeb Bush, Ted Cruz, Scott Walker, and the rest on Twitter; his feed regularly links to his YouTube channel, which features the greatest hits in his unplugged oeuvre; less potent on Facebook (179k) and Instagram (11k). 
Media coverage: National political reporters vary in degree to which they now consider him damaged goods, but not on the underlying assessment; resulting stories are laced with skepticism about his prospects for a comeback.
Polling strength: Hovering around 5 percent nationally, slightly better in New Hampshire, slightly worse in Iowa; possesses among the highest unfavorables and "never consider" scores among Republicans everywhere.
The Big Mo: After traveling at light speed in the wrong direction for roughly a year—from the highest high of his 2013 re-election to the lowest low of his immediate post-Bridgegate miasma—his trajectory has finally stabilized; but few tangible signs exist of meaningful upward motion as yet.
Fire in the belly: Too little to cause him to take the plunge in 2012, which history may judge as having been his moment; replaced by a flame so hot that he is willing to run now despite long odds and travails that would have caused less ambitious pols to have given up the ghost long ago.
The hang test: Aside from those—voters, reporters, elected officials—on the receiving end of one of his dressings down, most who encounter him on the trail find him charming, funny, and approachable.
Challenges party orthodoxy: Expanded Medicaid through the Affordable Care Act; signed New Jersey's version of the DREAM Act; has appointed allegedly liberal judges in Jersey courts; outspoken against Republicans expressing outrage about the so-called Ground Zero mosque; support for some gun-control measures.
Best moments of 2016 cycle so far: At the Conservative Political Action Conference, taking a question about him being "short-tempered" from Laura Ingraham and turning it on its head with a declaration of his "passion"; demonstrating the evolution of dad dancing with Jimmy Fallon.
Worst moments of 2016 cycle so far: Waffling on vaccinations during his London trip; hugging Dallas Cowboys owner Jerry Jones on national TV, thus inspiring howls of outrage and derision from his Jets-loving constituents.
Best Bloomberg Politics moment: The With All Due Respect version of the Cowboy Hug.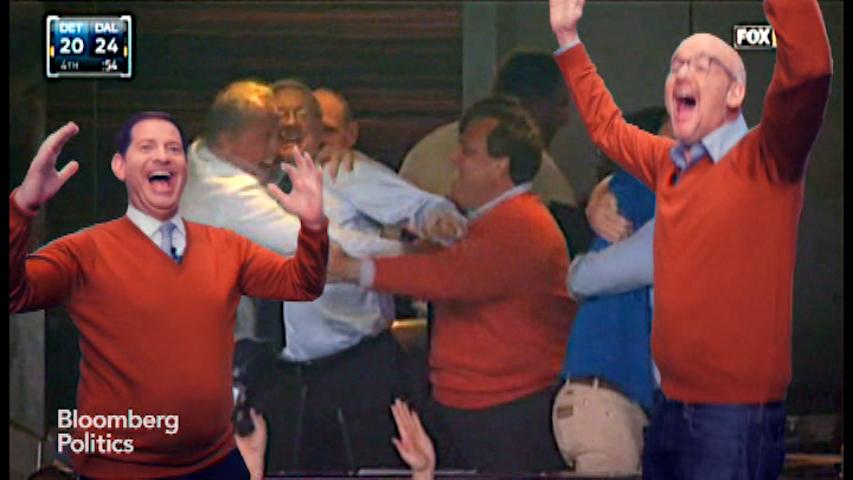 Pictures he doesn't want you to see: Any featuring traffic jams on the George Washington Bridge—or of him hanging out with erstwhile friends-turned-Bridgegate tormentors David Wildstein and Bridget Anne Kelly.