Jeb Bush to Release 33 Years of Tax Information
The returns will shed new light on his earnings since leaving office in 2007.
By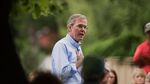 Republican presidential candidate Jeb Bush plans to release 33 years of tax returns on Tuesday, a scope his aides say is unprecedented for any White House contender.
Bush's plan to release the tax information, shared by spokeswoman Allie Brandenburger, is an attempt to suggest the former Florida governor's commitment to transparency, similar to his move earlier this year to publish e-mails from his time in state office. But like the e-mails, many of the tax returns Bush plans to make public have already been released. Bush released 10 years of tax returns during his unsuccessful governor's race in 1994, and was required to release financial information when he ran in 1998 and each of the next eight years when he was in office.
Bush's net worth was about $2 million when he took office in 1999, and dropped to about $1.3 million when he left eight years later, according to public disclosure filings.
Still, the tax returns will offer new information on his earnings since leaving office in 2007. Bush's work in the private sector during the past decade has included positions with Barclays and Lehman Brothers and his foray into into the world of private equity with an ownership stake in Britton Hill Partners LLC. Bush also sat on the board for Tenet Healthcare and made more than 100 paid speeches.
Bush will present a contrast with 2012 nominee Mitt Romney, who released limited returns in January of that year under political pressure from opponents. 
Candidates aren't required to release tax returns. Federal law requires presidential candidates to file personal financial disclosures within 30 days of announcing their candidacy. They can get two extensions of up to 45 days each, and the Federal Election Commission can take up to 30 days to release the filings. The rules require candidates to list their sources of income, transactions, liabilities, and assets, all within broad ranges. They also must release information about their spouses and dependent children. 
—With assistance from Richard Rubin in Washington.