Barrick's Cyanide Breakthrough on Gold Solves Puzzle
David Stringer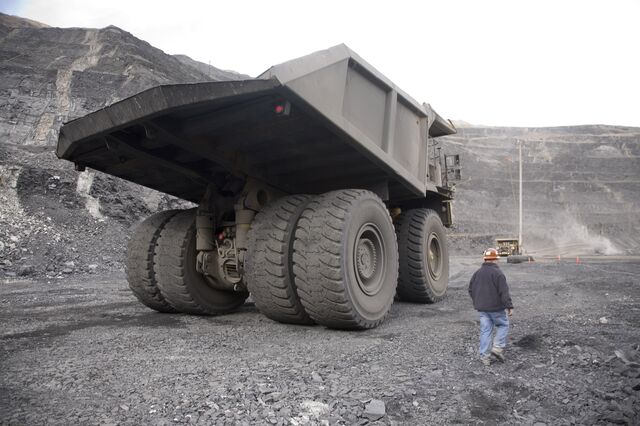 Barrick Gold Corp. has pioneered a way to produce gold without having to depend on cyanide's chemical ability to separate the precious metal from ore.
As much as 60 percent of the planet's gold is currently produced using cyanide, a 120-year-old practice that carries environmental risks of groundwater contamination.
The new technique, used by Barrick to get gold from cyanide-resistant ore at its Goldstrike mine in Nevada, will let the world's largest producer recover about 2.25 million ounces of gold worth $2.6 billion over five years. The technology could also spur other companies to consider new ways to limit the use of cyanide in mining.
"Now there's a plant up and running it takes away some of the risk," said Paul Breuer, a Perth-based principal research scientist at Australia's Commonwealth Scientific and Industrial Research Organization, which worked with Barrick on the process. "People will be very seriously looking at it."
Barrick and the CSIRO developed a way to use non-toxic thiosulfate to process so-called double refractory ore. The research group has also worked with companies including Newcrest Mining Ltd., Australia's biggest producer, on techniques to limit cyanide use.
50 Biggest Miners
Researchers have been working on the thiosulfate technique since the 1970s. Breuer stressed that it's not suitable for all mines and may add to production costs.
"We know that cyanide is a concern for some stakeholders," Barrick spokesman Andy Lloyd said in an e-mail. "The potential to use alternatives to cyanide at certain operations in the future may help to address those concerns."
About 50 large gold producers have adopted a voluntary policy on the use and disposal of the chemical. The International Cyanide Management Code was drafted after an accident in 2000 polluted rivers in eastern Europe, cutting off drinking water supplies to about 2.5 million people in Hungary and Serbia and killing 1,500 tons of fish.
The spill from a mine near Baia Mare in Romania, which let loose a torrent of waste water laced with 120 metric tons of cyanide, was caused when a tailings dam -- used to store mine waste -- overflowed.
A similar breach affected a mine in Mexico in January, though the operator Penmont S. de R.L. was able to contain the spill within the boundaries of the site, the country's environmental prosecution agency said.
Stockpiled Gold
There haven't been any incidents involving major producers resulting in deaths or significant environmental damage in at least a decade, said Norm Greenwald, executive vice president of the International Cyanide Management Institute, which oversees the gold industry's code.
Barrick's development of the new technique, which included a $620 million commitment for a new processing plant, was done primarily to help the company more quickly recover stockpiled gold rather than as an effort to limit environmental risks, according to Lloyd. Cyanide is safe when properly managed, he said in an e-mail.
The toxic legacy of cyanide is much more keenly felt in illegal mining. In February, China's official news agency reported three people were killed after being poisoned by cyanide gas at an illegal gold mining operation in Henan Province.
Aquatic Life
Cyanide in high concentrations is toxic to aquatic life, especially fish, which are 1,000 times more sensitive to the chemical than humans. Birds and other wildlife are also at risk if they use tailings ponds for drinking or swimming.
"The biggest issue with cyanide is its toxicity to the environment and that's the number one driver to try and get away from using it," said CSIRO's Breuer.
Use of the chemical in gold mining is restricted or banned in Montana, parts of Argentina, Hungary, Slovakia and the Czech Republic, according to the Cyanide Management Institute.
"You can't really invest in gold without having some exposure to cyanide," said David Coates, a Sydney-based analyst at Bell Potter Securities Ltd. "Though wherever you can see community or environmental benefits or risk reduction, that's always a positive."
Before it's here, it's on the Bloomberg Terminal.
LEARN MORE