The One Thing Bernie-mentum Can't Overcome: Demographics
But another potential candidate could take the Hillary Clinton challenge that Sanders started, and build on it: Joe Biden.
By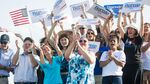 Could Bernie Sanders really be the nominee? Recently, some on the left have dared to hope. Reports of large, fervent crowds and growing poll results from some early states fueled significant media discussion of a surge for Sanders as he challenges quasi-incumbent Hillary Clinton for the Democratic presidential nomination.