The One Thing Bernie-mentum Can't Overcome: Demographics
But another potential candidate could take the Hillary Clinton challenge that Sanders started, and build on it: Joe Biden.
By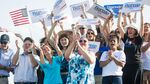 Could Bernie Sanders really be the nominee? Recently, some on the left have dared to hope. Reports of large, fervent crowds and growing poll results from some early states fueled significant media discussion of a surge for Sanders as he challenges quasi-incumbent Hillary Clinton for the Democratic presidential nomination.
Our own Bloomberg Politics poll showed that while Clinton retained strong leads in both New Hampshire and Iowa, Sanders' support was increasing and assessments of Clinton softened a bit. A CNN New Hampshire poll out a day later showed a much closer race and highlighted Clinton's "dwindling" lead. While you may want to take it with a grain of salt because he is a Republican, well-respected pollster Glen Bolger flat out predicted that Sanders would beat Clinton in both Iowa and New Hampshire.
With all of those signs of Bernie-mentum, it's probably a good time to take a step back and see if there may be too much irrational exuberance by both progressives and pundits hoping for a real threat to Clinton to emerge in the nominating contest. 
Let's start by stepping back to 2008. Support among liberals and his opposition to the war in Iraq opened the door for Barack Obama in Iowa, earning him a win in that state's caucuses. Anti-war voters and progressives, along with black voters in subsequent states, allowed Obama to split—nearly evenly—the states and the votes in the 38 states that held primaries. 
But while it looked to be a victory for antiwar progressives, the most salient arithmetic is in black and white.
Although Obama did win the majority of white voters in some states, the basic math in many states was a 60-40 split for Clinton among white voters and a 90-10 split for Obama among black voters. The primary results were then determined by the composition of the electorate and not solely Obama's personal appeal. Compare North Carolina and Pennsylvania. In Pennsylvania, Obama won black voters 92% to 8%, while Clinton won white voters 60% to 40%. The numbers were virtually identical in North Carolina where Obama won blacks 91% to 6% and Clinton won whites 59% to 36%. The difference was that in Pennsylvania, 13% of the Democratic primary electorate was black and, in North Carolina, 33% of the primary electorate was black. These shares gave Clinton a 10-percentage point win in Pennsylvania and Obama a 14 percentage point win in North Carolina. 
Even if you believe Sanders can replicate Obama's performance with progressives and fire up voters in Ann Arbor, Berkeley, and Madison—where he's campaigning on Tuesday—he will clearly not enjoy the near-uniform support that Obama enjoyed from black voters. Top advisers have conceded he is a "virtual unknown" among African American voters, and Sanders himself is vowing to "significantly increase" appeals to minorities in an attempt to change that. Even a significant improvement on this count would not put Sanders on the same level as Obama, who rode overwhelming black support after his initial "proof of concept" win in Iowa.
Just as Obama's victory in Iowa changed the flow of the campaign and the outcomes in later states, Sanders could certainly do the same—just not in a way that would be likely to win him the nomination, let alone the White House. 
In the electoral forecasting game, the most important factor is the overall composition of the likely Democratic electorate beyond the early states and the growth potential of candidates within that likely electorate. Support among white progressives and independent-minded voters in Iowa and New Hampshire may provide a base of support for Sanders. But he obviously can't hope to replicate Obama's performance with black voters. Even if Clinton shows some vulnerability, at the end of the day—or the end of the New Hampshire primary—the upside for Bernie Sanders is limited among African Americans and more moderate Democrats in subsequent states. He will not, quite simply, be able to re-create the electoral math that drove Barack Obama to the nomination. 
But what about Obama's vice president?  If Clinton shows some vulnerability, might Joe Biden, with growth potential among Democrats across the spectrum, be tempted to put the Obama electoral band back together?
Ken Goldstein is professor of politics at the University of San Francisco and is Bloomberg Politics' polling and political advertising analyst.