CNN Helps Us Laugh at Islamic State Amid the Tears
By and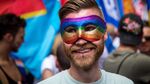 This is an excerpt from Bloomberg's daily Opening Line column.
Unlike most weeks, we aren't starting this one feeling especially chipper, cheerful, or snarky. We don't like Mondays, we mean today.
What a WTF few days. Is it fair to put it like that?
Sure, there is more than enough death, mayhem, sadness and destruction to go around every day. It's impossible to take in all the suffering, and almost impossible to avoid becoming a little numb to it.
And yet, we can't quite put our finger on why, but didn't it feel a little different on Friday? Tunisia, Kuwait, France, Somalia: these may have been ghastly, but otherwise coincidental birthday presents from Islamic militants across the region to the caliphate, but as the news turned more gruesome by the hour, wasn't it hard not to wonder if they had somehow been coordinated for maximum horror?
At least 30 Britons were killed during the siege in Tunisia, and the eventual figure could rise further, the Guardian reported. The Kuwaiti government will discuss additional security laws to prevent a repeat of Friday's attack on a Shiite mosque. Meanwhile, the French town where a man was beheaded and a gas plant targeted is confronting the aftermath—a climate of heightened suspicion and division among its residents.
If all that wasn't enough, layer on top the drama coming to a head in Greece—offering its own tragic dimensions—as the nation shut its banks and imposed capital controls designed to avert the collapse of its financial system. The measures, announced just before 3 a.m. in Athens, limit daily cash withdrawals and ban payments and transfers abroad. Banks will be closed at least until July 6. 
We repeat: What a WTF few days.
After a weekend of despair such as this, all we can say is thank you CNN for covering London's Gay Pride parade. Sometimes, a flag is nothing more than a collection of sex toys.