A Former Obama Aide Describes What It Was Like to Come Out to His Boss
By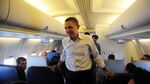 What's it like to come out as gay to President Barack Obama?
Former Obama campaign press secretary Ben LaBolt shared his story on Sunday—and he said the moment was not without its hiccups.
"When I first told him, he didn't exactly hear what I was saying," LaBolt said, appearing on CNN's State of the Union for a panel discussion on the landmark week in politics, including the Supreme Court's decision on Friday legalizing same-sex marriage nationwide.
"So, I sit down with some other colleagues at the DNC [Democratic National Committee] for a meeting when I first started working for him and bumped into a female colleague of mine from the Hill, and there were some jokes between the staff about whether I was flirting with her or not," LaBolt said.
"The answer is you were not," host Jake Tapper said. 
"I was not, and it was time to bring the senator into the loop," LaBolt said, referring to the job Obama held in Washington at the time. "So I said, 'Senator, just so you know, I'm gay.' And he said, 'You've got game? I just saw it. I'm standing right here, Ben. We all saw it.'" 
"It took about five or six times to clarify, out of the elevator, down the stairs, into the car," LaBolt said. "I said, 'Senator, I just want to tell you I really am gay.' He said, 'I thought you said you had game. All right. I'll keep my eye out for you.' And he did."
Joining LaBolt on the panel were former White House communications director Anita Dunn and former deputy Obama campaign manager Stephanie Cutter. The group defended the president's so-called evolution on same-sex marriage (he didn't endorse it until May 2012), arguing that his presidency allowed for a broader change in cultural attitudes that ultimately led to Friday's court decision.
"I think you have to understand how quickly the country shifted on this issue," LaBolt said. "We've seen all that change realized under President Obama."
Watch LaBolt tell the story here: