Presidential Candidates React: From 'Historic Victory' to 'I Will Not Acquiesce'
The Supreme Court's ruling on gay marriage sparked a downpour of reactions from the 2016 field.
By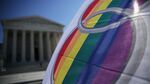 For most Republicans, the Supreme Court's ruling on gay marriage is an opportunity to put to rest a divisive issue that threatens their party in the 2016 presidential election. As if dropping a hint to some members of his party, Republican National Chairman Reince Priebus said in a statement "the Supreme Court has spoken with finality."
Yet some Republican candidates are seizing the decision and the controversy as an opportunity.
Former Governor Mike Huckabee, former Senator Rick Santorum and Louisiana Governor Bobby Jindal are among the Republican contenders decrying the court's 5-4 ruling and angling to use it as a cudgel against competitors like Florida Governor Jeb Bush, who hasn't stated his position on a constitutional amendment banning gay marriage and probably has a better shot at the nomination. Senator Ted Cruz of Texas is sponsoring such legislation in Congress, and some of the candidates polling in the top tier are already feeling the heat. Wisconsin Governor Scott Walker recently threw his support behind a constitutional amendment.
"I will not acquiesce to an imperial court any more than our Founders acquiesced to an imperial British monarch,'' Huckabee said in a statement. "We must resist and reject judicial tyranny, not retreat.''
Responses from the 2016 field:
The Democrats
Moments after the Supreme Court announced the ruling Hillary Clinton tweeted out congratulations to "LGBT Americans." 
In a statement issued shortly afterwards, Clinton said "today is one of those days we'll tell all our grandchildren about," neatly tying the cause of family rights to traditional family values. "This is our country at its best: inclusive, open and striving towards true equality," wrote Clinton.
Equally quick off the mark was Clinton rival Martin O'Malley, who worked in a not-so-subtle reminder that he signed a gay marriage bill into law when he was governor of Maryland. "Today, the Supreme Court affirmed that marriage is a human right—not a state right. I'm grateful to the people of Maryland for leading the way on this important issue of human dignity and equality under the law. The American Dream is strongest when all are included."
Senator Bernie Sanders, a Vermont independent who is seeking the Democratic nomination, was equally emphatic: "Today the Supreme Court fulfilled the words engraved upon its building: 'Equal justice under law.' This decision is a victory for same-sex couples across our country as well as all those seeking to live in a nation where every citizen is afforded equal rights," Sanders said in a statement issued by his campaign. "For far too long our justice system has marginalized the gay community and I am very glad the Court has finally caught up to the American people."
The Republicans
Republican Jeb Bush led a number of centrist Republican candidates in trying to express disapproval of the decision without hostility to gay and lesbian Americans, and their friends and families. "The Supreme Court should have allowed the states to make this decision," he said. "I also believe that we should love our neighbor and respect others, including those making lifetime commitments."
Neurosurgeon Ben Carson, who says he supports same-sex civil unions but not gay marriage, said that "the ruling is the law of the land" while "I strongly disagree." Congress should "make sure deeply held religious views are respected," Carson said in a statement. "the government must never force Christians to violate their religious beliefs."
Florida Senator Marco Rubio also used the decision to make a case that a Republican should pick the next Supreme Court justice. Marriage "should be between one man and one woman," he said in a statement, adding that those who disagree "have the right to change their state laws." Rubio said that is "not the right of the unelected judges or justices of the Supreme Court." While he said even those who disagree with the decision "must abide by the law," Rubio added that "it must be a priority of the next president to nominate judges and justices committed to applying the Constitution as written and originally understood."
Former Hewlett Packard CEO Carly Fiorina took a similarly nuanced position. "The Court ruled today that all Americans should receive equal benefits and rights from the government under the law. I have always supported this view," she said in a statement. "However, this decision was also about the definition of marriage itself. I do not agree that the Court can or should redefine marriage."
Former Arkansas Governor Mike Huckabee, a Baptist minister, decried the "unconstitutional judicial tyranny" of the ruling. "This ruling is not about marriage equality, it's about marriage redefinition," Huckabee said in a statement issued by his campaign. "This irrational, unconstitutional rejection of the expressed will of the people in over 30 states will prove to be one of the court's most disastrous decisions, and they have had many." 
Ohio Governor John Kasich's statement was short and to the point. "The governor has always believed in the sanctity of marriage between a man and a woman, but our nation's highest court has spoken and we must respect its decision," said Kasich spokesman Rob Nichols.
Wisconsin Governor Scott Walker went farther than most candidates by calling for an Constitutional amendment to hand power over marriage laws to the states. "In 2006 I, like millions of Americans, voted to amend our state constitution to protect the institution of marriage from exactly this type of judicial activism," Walker said. The Wisconsin law, which Walker supported as  was truck down by a federal judge last year. Now that the Supreme Court has made this "grave mistake," he concluded "the only alternative left for the American people is to support an amendment to the U.S. Constitution to reaffirm the ability of the states to continue to define marriage." 
Former Texas Governor Rick Perry said he is "disappointed the Supreme Court today chose to end the centuries old definition of marriage as between one man and one woman." Contending that the 10th Amendment to the Constitution leaves such definitions to states, Perry added: "Our founding fathers did not intend for the judicial branch to legislate from the bench and as president, I would appoint Constitutional conservatives who would apply the law as written."           
Louisiana Governor Bobby Jindal accused the justices of following "public opinion polls" and said the decision "tramples on states' rights that were once protected by the 10th Amendment of the Constitution. Marriage between a man and a woman was established by God, and no earthly court can alter that," he said in a statement, predicting: "This decision will pave the way for an all out assault against the religious freedom rights of Christians who disagree with this decision."
Former Senator Rick Santorum said the justices made a mistake "just as they have in cases from Dred Scott to Plessy," invoking the infamous 19th century rulings that upheld the institution of slavery. "As President, I will be committed to using the bully pulpit of the White House to lead a national discussion on the importance to our economy and our culture of mothers and fathers entering into healthy marriages so that every child is given their birthright- to be raised by their mother and father in a stable, loving home," Santorum said in a statement issued by his campaign committee.
New Jersey Governor Chris Christie told reporters Trenton Friday that although he disagrees with the court's ruling, it is the law now. "I don't agree with the way it was done, but it's been done and those of us who've taken an oath have a responsibility to abide by that," Christie said. Christie made similar remarks when the New Jersey Supreme Court legalized gay marriage in 2013.
On Twitter, Donald Trump blamed Chief Justice John Roberts, apparently neglecting the detail that Roberts voted with the minority against gay marriage and alluding to the fact that Roberts was appointed to his job by former President George W. Bush, the brother of one of Trump's rivals for the Republican presidential nomination.
Contributing: Jennifer Epstein, Billy House, Rob Gifford, Duane Stanford, John McCormick, Mark Niquette, David Weigel, Steve Yaccino