Nuclear 2.0? Jeb Bush Is Open to Ending the Senate Filibuster to Repeal Obamacare
The ex-governor is willing to go where rival Republican candidate Ted Cruz has so far been unwilling.
By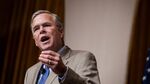 Republican presidential candidate Jeb Bush said Friday he's open to eliminating the Senate's 60-vote threshold if it helps Congress repeal Obamacare and enact "free-market oriented" health care reforms.