Victory for Obamacare: 2016 Candidates React
It seems clear the justices' ruling will not end the political debate over how Americans obtain and pay for health insurance.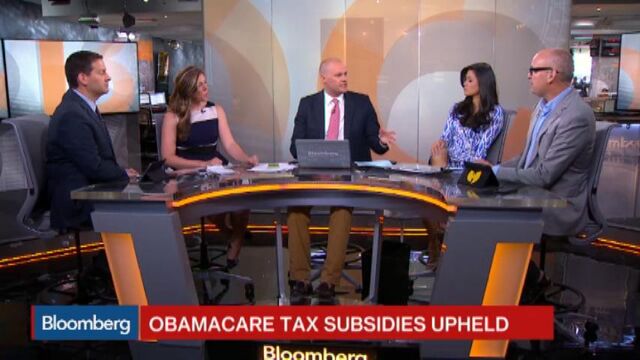 By Bloomberg Politics staff
The candidates hoping to succeed President Barack Obama reacted on predictably partisan lines following the Supreme Court decision effectively upholding the his signature health care law. But it seemed clear from all of the statements that the justices' ruling will not end the debate over how Americans obtain and pay for health insurance. A summary of presidential hopefuls' statements:
The Democrats
Hillary Clinton celebrated the health care win, a cause she backed unsuccessfully as first lady, with an exuberant tweet posted shortly after the justices handed down their decision:
In a statement issued later by her campaign, Clinton added: "It's time for the Republican attacks to end. It's time to move on. The Affordable Care Act isn't perfect, but the evidence is clear: it's working. Sixteen million Americans have gained coverage," she said, adding: "I've fought for the promise of quality, affordable health care for every American for decades. And I'm not going to stop now."
Senator Bernie Sanders, a Vermont independent running for the Democratic presidential nomination, echoed those sentiments in an e-mailed statement: "The Supreme Court recognized the common-sense reading of the Affordable Care Act that Congress intended to help all eligible Americans obtain health insurance whether they get it through state or national exchanges. Access to affordable health care should not depend on where you live." But the self-described socialist went further, adding: "What the United States should do is join every other major nation and recognize that health care is a right of citizenship.A Medicare-for-all, single-payer system would provide better care at less cost for more Americans."
Former Maryland Governor Martin O'Malley also called for more improvement in health care but with a focus on reducing costs for taxpayers: "The Affordable Care Act has helped more than 17 million Americans access quality and affordable health coverage. Now that the Supreme Court has, once again, upheld the Affordable Care Act, we must continue to build and improve upon this hard won-progress. With the national goal of universal coverage now affirmed, we must reduce costs by improving wellness. Innovations for better coordinated care, personalized medicine, and the alignment of profit incentives to promote wellness make all of this possible."
The Republicans
New Jersey Governor Chris Christie, who has yet to make his presidential intentions official despite frequent trips to early-voting states, condemned the high court's ruling in a tweet:
Former Hewlett-Packard CEO Carly Fiorina also blasted the court's ruling, which she said saved "a deeply flawed law." In a statement released by her campaign, Fiorina added that "Obamacare has not lived up to what we were promised. Instead of allowing those with insurance to stay on the plans they knew and liked, millions of people have been compelled to buy health plans that they didn't want. Many have been forced to move to Medicaid and yet more doctors are refusing to take Medicaid patients under this law. We were promised improved access and higher-quality care, but the complexity of ObamaCare is preventing the very competition that would allow more and better options for patients. Instead, hospitals, drug companies, and insurance companies are all consolidating. The lasting solution here is what we've been saying all along. We need to repeal ObamaCare."
Senator Lindsey Graham, a South Carolina Republican, predicted that the 2016 election will be a continuation of the health care debate, saying Clinton "will make Obamacare her own" and suggesting that his party do the opposite. "If you want to repeal and replace Obamacare with something better for your family—bipartisan—vote Republican," he said.
Former Arkansas Governor Mike Huckabee: "Today's King v. Burwell decision, which protects and expands ObamaCare, is an out-of-control act of judicial tyranny," Huckabee said in a statement. "Our Founding Fathers didn't create a 'do-over' provision in our Constitution that allows unelected, Supreme Court justices the power to circumvent Congress and rewrite bad laws. The Supreme Court cannot legislate from the bench, ignore the Constitution, and pass a multi-trillion dollar 'fix' to ObamaCare simply because Congress misread what the states would actually do. The architects and authors of ObamaCare were intentional in the way they wrote the law. The courts have no constitutional authority to rescue Congress from creating bad law. The solution is for Congress to admit they screwed up, repeal the 'nightmare of Obamacare', and let states road-test real health care reforms."
Louisiana Governor Bobby Jindal, who launched his campaign for the White House on Wednesday, promised to continue the fight against the health care law: "Today, the Supreme Court had its say; soon, the American people will have theirs. President Obama would like this to be the end of the debate on Obamacare, but it isn't," Jindal said in a statement. "Now that the Supreme Court has ruled, the debate will grow. Conservatives must be fearless in demanding that our leaders in Washington repeal and replace Obamacare with a plan that will lower health care costs and restore freedom."
Ohio Governor John Kasich, in Iowa this week though he has not declared his intentions about the presidential campaign, had opted for a federal exchange while also accepting an expansion of Medicaid. He had said his staff was "in the bullpen" putting together alternatives had the court ruled the other way. Nonetheless, he feels the court's decision is "disappointing," and thinks Obamacare should be replaced with a program that allows states to pursue "market-based" innovations instead of relying on "big government programs imposed by Washington," spokesman Rob Nichols said.
Senator Marco Rubio, a Florida Republican, said "Obamacare must go" despite the Supreme Court decision. "I disagree with the court's ruling," the senator said in a statement, adding that the justices are "forcing Obamacare on the American people."
Governor Scott Walker, a Wisconsin Republican who has not yet made his campaign for the presidency official although he has begun fundraising for it, called upon his rivals in Congress to act: "Today's Supreme Court ruling upholding the administration's implementation of ObamaCare means Republicans in the House and Senate must redouble their efforts to repeal and replace this destructive and costly law," he said in a statement. "Congress needs to repeal and replace Obamacare."
Former Florida Governor Jeb Bush said the fight against the law is not over. "As President of the United States, I would make fixing our broken health care system one of my top priorities," he said in a statement. "I will work with Congress to repeal and replace this flawed law with conservative reforms that empower consumers with more choices and control over their health care decisions."
Former Pennsylvania Senator Rick Santorum, noting that he "defeated the author of HillaryCare" to win his Senate seat in 1994, said: "Today's ruling by the Supreme Court is yet another reminder that if we are to rid our nation of Obamacare once and for all, we need to elected a conservative President prepared to lead on day one. As President, I will be committed to repealing the monstrosity of Obamacare and replacing it with a patient-centered program that puts people first, not the government."
Retired neurosurgeon Ben Carson urged Republicans not to waste time "mourning today's ruling." He said in a statement: "While I resent what the court has done, it only causes me to work even harder to make sure the next President will repeal and replace Obamacare with sensible consumer empowering solutions that remove the government from the patient/doctor relationship."
Kentucky Senator Rand Paul decried the move. "This decision turns both the rule of law and common sense on its head," Paul, an eye doctor, tweeted. "Justice Scalia got it right! 'Words no longer have meaning if an Exchange that is not established by a State is 'established by the State.'"
Kathleen Hunter, Jennifer Epstein, David Weigel, Duane Stanford, Robert Gifford, John McCormick, Margaret Newkirk, and Mark Niquette contributed to this report.