politics
Obamacare Subsidy Fix? Not Likely, Say House Republicans
Conservative skepticism is an ominous sign for beneficiaries and industry stakeholders.
By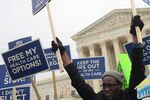 Ahead of an imminent Supreme Court ruling that could erase health insurance subsidies for an estimated 6 million Americans, some House Republicans are pouring cold water on plans by party leaders to temporarily extend the tax breaks under Obamacare.
The objections are an ominous sign for the insurers, hospitals and lower-income Americans that stand to lose if the justices deal a blow to President Barack Obama's signature domestic achievement. Republicans have long promised they'll be ready to soften the blow if the decision in the case, King v. Burwell, goes against the White House.
But that is looking less certain, especially after conservative kingmaker Jim DeMint, head of the Heritage Foundation and founder of a powerful super PAC, suggested any such moves would be tantamount to political malpractice.
"I don't think extending the subsidies beyond what the court allows is a wise idea or tenable. It doesn't make any sense to me, if the court decides in favor of King," Representative Tom Price of Georgia, the chairman of the House Budget Committee, told Bloomberg on Wednesday. "To have Congress continue those [subsidies] beyond whatever the court says is the right time just doesn't make any sense."
"I don't think that's what we plan on doing," Price said.
Other Republicans who rejected a subsidy extension were Representatives Louie Gohmert of Texas and Tim Huelskamp of Kansas.
Representative John Fleming of Louisiana, a co-leader of the Doctors Caucus, said he's "undecided" on the issue of temporary subsidy relief. "We don't know whether Burwell falls or not." But if it does and "if we just ignored it, there's always a concern that some people could lose their insurance."
A Supreme Court decision could come as early as Thursday. At stake: The legality of health insurance subsidies for Americans in three-quarters of states that declined to build their own exchange under the Affordable Care Act and instead use the federal exchange.
Party leaders' contingency plan 
Republican leaders in the House and Senate—who want the court to deal what could be a death blow to the president's health care law—have floated a contingency plan in the event of victory. One reason Republicans are interested in doing so: Red states would be hit hardest if the justices rule against the White House. Many in Texas and the Deep South would see their subsidies evaporate, while New York and California—which set up states exchanges—would emerge unscathed.
Leadership's plan includes a temporary subsidy extension for up to two years while scrapping Obamacare mandates and letting states opt out of its regulations.
The political dilemma for Republicans is that extending the subsidies could be seen as a validation of Obamacare. DeMint and Senate Conservatives Fund President Ken Cuccinelli this week ramped up pressure on Republicans to let the subsidies die. Meanwhile, Democrats are said to have a "one sentence" fix ready, which would make the subsidies available in all 50 states if they lose the case, an idea that top Republicans have ruled out.
"Most of America hates Obamacare," Fleming said. "So what would be very annoying, very upsetting to the American people, is if we were to extend Obamacare in any shape or form, to prop it up or whatever. So we have to balance not propping up Obamacare with also making sure people don't fall between the cracks. And that's a delicate balance."
Open, but doubtful 
Representative Bill Flores of Texas said he's "willing to look at" a transitional tax-subsidy extension as an "off-ramp," saying it should have a definitive expiration date. He said he hopes it can pass the House but "I don't know for sure."
Representative Raul Labrador of Idaho said, "I'm not likely to" support a subsidy extension, "but I want to look at the specifics." Representative Ted Yoho of Florida said he's open but "not in big support" of a subsidy extension. Can it pass the House? "I don't think it will," he said.
The Republicans' focus should be on offering a health-care alternative, said Representative Jim Jordan of Ohio, the chairman of the recently formed House Freedom Caucus, a hub for some of the Hill's most conservative members.
Senate Republicans are warmer to the idea of temporarily continuing the health-care tax subsidies to avoid disruptions, though they also face dissent, including from presidential candidates Ted Cruz of Texas and Rand Paul of Kentucky.
A competing Republican proposal by Representative Paul Gosar of Arizona and six co-sponsors would scrap insurance market rules without subsidy relief for those harmed if the Supreme Court voids them.
Gosar told Bloomberg he's encouraged by the support from DeMint for his plan, saying he has received "a lot of interest" from Republicans and doubted that leaders' plan to continue the subsidies would get enough support to pass the House, given that Democrats oppose its other provisions that damage Obamacare.
"I think it'd be tough," he said.
Before it's here, it's on the Bloomberg Terminal.
LEARN MORE