Drake Puts 'the 6' on the Map
The rapper tirelessly promotes Toronto without getting paid for it
By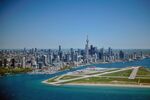 If you happen to be one of Will Smith's 73 million followers on Facebook, you might have caught a selfie the Men in Black star took on June 10 with the caption "Lovin' the 6." If you didn't recognize the landmark in the background—the CN Tower, once the tallest structure in the world—it's unlikely you'd have the faintest clue what "the 6" is. Unless, that is, you listen to the music of Drake. The 6 is the chart-topping rapper's preferred nickname for Toronto, his hometown, drawn from a common digit in its two area codes: 416 and 647.
With a population of 2.8 million, Toronto recently overtook Chicago as North America's fourth-largest city. It regularly lands in the top tier of global rankings for quality of life, business, safety, and real estate. Yet several city-funded marketing campaigns have done little to raise its profile or stop it from occasionally being called Hogtown. Operating without the blessing of government officials, Drake seems to be making headway where they've failed. There's Drake flying past the city's skyline in a private jet in the video for his song Started From the Bottom; here's Drake showing off his 416 and CN Tower tattoos on Instagram. He hosts his own hip-hop music festival each summer, which turns Toronto into the center of the rap universe for three days.
Other cities regularly tap celebrities as spokespeople (New York conferred the honor on Taylor Swift, for instance), but "pure celebrity isn't enough," says Toronto Mayor John Tory. "For someone who has 10 million followers on Instagram and 23 million on Twitter, it's great to see Drake using that kind of reach to talk about Toronto," Tory says. "He brings the cool side of Toronto that the mayor of Toronto just can't." Drake and his representatives wouldn't comment for this story.

Until the mid-1970s, Toronto played second fiddle to cosmopolitan Montreal. Then the Quebec separatist movement triggered a massive shift of corporate wealth to Toronto and turned the city into a magnet for immigrants. "There was a real desire to establish an identity," says David Dunne, an adjunct professor of marketing at the University of Toronto's Rotman School of Management. But officials struggled to define one, because the city was growing so fast. "You didn't know which way the city's culture would develop," says Dunne, who moved to Toronto from Ireland in 1979.
Over the decades, Toronto's leaders have introduced a series of ham-handed marketing campaigns. These have included slogans such as "Diversity our strength," "A world within a city," and "Expect the world" that tried to capture the polyglot nature of a city where almost half the residents are foreign-born. Then there was the Toronto Unlimited campaign, which the city's tourism agency spawned in 2005 with the aid of outside consultants. "It was the dumbest waste of $4 million," says JT Singh, a brand consultant in the city who's worked on campaigns for Toronto's entertainment district, Shanghai, and North Korea's Pyongyang. "Unfortunately, cities worldwide get sold on these ineffective initiatives by conventional branding agencies," Singh says. "They brand a city like they would brand a bar of soap or a soda can."
Drake's only official role in Toronto is as global ambassador for the NBA Raptors. Until the team hired him in 2013, the Raptors had failed to make an impression on either the city or the league, regardless of its on-court performance. It didn't help that many of the players openly disdained Toronto—too cold, too Canadian, too white—and requested trades. Sitting courtside, Drake proudly sports Raptors gear. He parties with players and helped the city land next year's All-Star Game. In 2014 he provided the voice-over for the team's We the North campaign, a pre-playoff triumph of unabashedly Torontonian chest thumping. Suddenly, Raptors hats and jerseys could be spotted not only on the streets of Toronto, but also on those of U.S. cities. Average attendance at games is 17 percent higher than in the 2011-12 season.
Drake "comes from the world of hip-hop, where pride of place has been a dominant social cue," says Dustin Rideout, vice president for strategy at the ad firm Sid Lee, who created the We the North campaign. It's hard to say whether the star's pride will have a positive effect on Toronto's economy, which was already humming. Average housing prices are up 11 percent since last May, and there are more than 100 new high- and midrise buildings under construction, second only to New York in North America. The number of overnight visitors passed 14 million in 2014; it's on track to hit a record this year, with the city hosting the Pan American games on July 10-26. "We are finally on the radar now," Brendan Powell, a real estate agent in Toronto whose main clientele is international buyers, wrote in an e-mail. "I've lived in Tokyo, Miami, and New York, but I've never had more international people—especially Americans—comment that they hear 'Toronto is a really cool place.' "
The bottom line: Toronto hosted 14 million visitors last year, a record. Rapper Drake has upped the city's cool factor.
Before it's here, it's on the Bloomberg Terminal.
LEARN MORE