Chart: Louisiana's Unemployment Rate During Bobby Jindal's Governorship
Jindal's greatest asset—economic stewardship—is now a liability.
By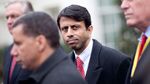 Louisiana Governor Bobby Jindal swept into office in early 2008 on a message of fiscal conservatism and economic prosperity, and he delivered. During his first term, Jindal oversaw an increase in Louisiana's credit rating from Standard and Poor's, and the state's unemployment rate stayed well below the national average through the recession.