Alfa Romeo's New Sedan Is Big on Horsepower and Hubris
With a 510-horsepower engine, Alfa's Giulia steers into BMW territory
By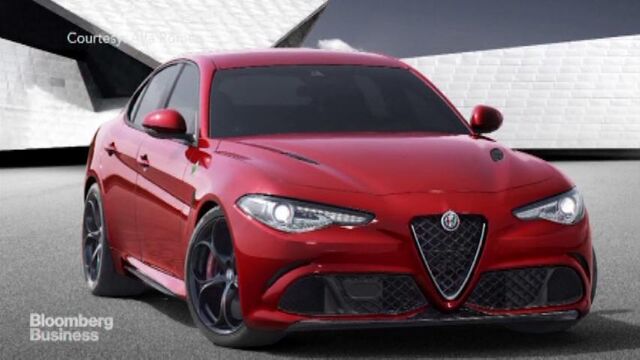 The Alfa Romeo striptease continued in Milan this week. This time Fiat Chrysler pulled the cover off a big, sporty sedan dubbed the Giulia. The Alfa renaissance has been going on for some time now. The storied badge now makes the minuscule MiTo and the hatchback Giulietta—neither of which are available in the U.S. In early 2013, it started making the 4C, a tiny, angry speed-pod stripped down to two seats, a carbon tub, and little leather pulls for closing the doors.
In other words, Alfa has been nibbling at the edge of the global car market. Its next model was supposed to be the big bite—the vehicle that would goose the brand toward its lofty volume goals. The thing is, the Alfa we saw on Wednesday isn't a machine made for volume. Huge sales numbers in the auto industry are usually driven by pickups, compact SUVs, and small, bland sedans.

The Giulia will be available in either rear or four-wheel drive, and Alfa promises its weight will be perfectly balanced between the front and rear axles. "Everything is clean, essential and centered around the driver," the announcement reads. Translation: Carpoolers and soccer dads should keep driving to the next dealership over.

There are a number of specs that Alfa has yet to provide on its newest model, including price. But torque vectoring and all-aluminum engines tuned by Ferrari engineers don't come cheap. They also don't matter to a wide swath of point-A-to-point-B car shoppers. To the average American, "high-speed downforce management" sounds like a scary HR initiative.
In other words, Alfa's new car is more of a statement than a sales strategy—a way to talk about the brand's heritage 1 and excite car buyers. If all goes as planned, those folks will eventually buy the Alfa SUV, which will roll out next year, and other subsequent, less sexy models.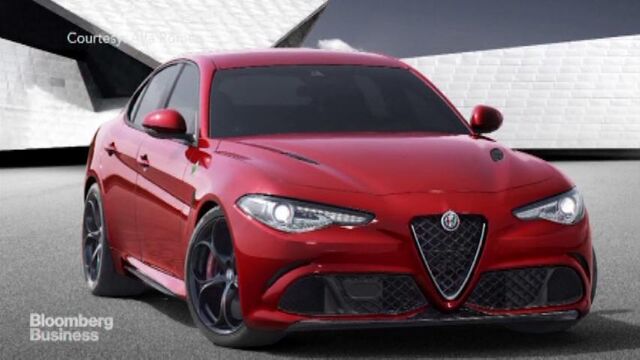 Fiat Chrysler went so far as to call the car "a genuine manifesto" in its announcement on Wednesday. Even so, it looks likely that Alfa's manifesto won't resonate well enough with the mainstream. IHS Automotive estimates Fiat Chrysler will sell only 216,000 Alfa Romeos in 2018, slightly more than half of the carmaker's stated sales goal.
Of course, there's an alternative scenario in which the Giulia really is as good as Alfa's breathless press materials contend. If that's the case, Alfa intends to steal a bunch of customers from BMW's 3 Series, the best-selling sports sedan in the world and the only one that has sales numbers that one would consider high volume.
In the car world, Alfa has always been an alternative choice—defined by what it isn't as much as what it is. Over the years, it was a poor man's Ferrari, an Italian Porsche, a slightly more reliable Jaguar. If this week's Alfa intends to be a better BMW, the Giulia will have to be something special indeed.
See The Graduate and the first two seasons of Formula 1 racing, 1950 and 1951.
Before it's here, it's on the Bloomberg Terminal.
LEARN MORE