Jim Webb Pushes Back on Behalf of Confederate Flag Supporters
The possible Democratic presidential candidate concedes that the flag has been used for racist purposes but says it serves as a reminder that not all southerners were slaveowners, while some Union fighters were.
By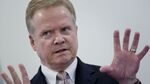 Former Virginia Senator and Vietnam war veteran Jim Webb has finally weighed in on the national debate over the Confederate flag—kind of.
Days after every major official and declared presidential candidate announced their stance on the flag, Webb released a statement on Facebook stating that while the flag has been used for "racist and other purposes" that not all Confederates were bad, and not all members of the Union were good. 
"The Confederate Battle Flag has wrongly been used for racist and other purposes in recent decades. It should not be used in any way as a political symbol that divides us," Webb wrote. "But we should also remember that honorable Americans fought on both sides in the Civil War, including slave holders in the Union Army from states such as Missouri, Kentucky, Maryland and Delaware, and that many non-slave holders fought for the South."
While other leaders have either called for the flag to come down or supported South Carolina Governor Nikki Haley's decision to call for the flag's removal, Webb asks for Americans to "come together, and to recognize once more that our complex multicultural society is founded on the principle of mutual respect." 
Every other major leader who has officially joined the race or are getting close has made their stance on the flag clear, either calling for the flag to come down, supporting Haley's decision, or saying that it's a matter best left to South Carolina. Webb is expected to announce his decision on running for president by the end of the month.
Meanwhile, Webb declined to comment on the flag to the Washington Examiner on Monday, and has a history of defending the Confederate flag in the past. In his statement, he notes that it was "in recognition of the character of soldiers on both sides that the federal government authorized the construction of the Confederate Memorial 100 years ago." During a 1990 speech at the memorial, Webb said historians should consider "that most Southern soldiers viewed the driving issue [of the Civil War] to be sovereignty rather than slavery." 
It's not clear that declining to call for the flag's removal will help him with Democrats, though Bill Kristol, the conservative editor of the Weekly Standard, was immediately impressed.