Obama's Fast-Track Trade Bill Advances to Final Senate Vote
Carter Dougherty and Kathleen Hunter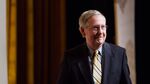 The U.S. Senate paved the way for a final vote Wednesday on legislation that would give President Barack Obama enhanced authority to complete free-trade deals including a landmark agreement with Pacific nations.
The 60-37 vote Tuesday to advance the measure came after a series of setbacks including a rebellion two weeks ago by House Democrats. Because the House has voted for the bill, H.R. 2146, it would go directly to the president for his signature upon Senate passage.
"Now it's time for the next step," Senate Majority Leader Mitch McConnell, a Kentucky Republican, said on the floor before the vote. "Today is a very big vote; it's an important moment for the country."
The legislation, known as fast-track or trade promotion authority, would let Obama submit agreements to Congress for an expedited, up-or-down vote without amendments. His administration hopes to complete a 12-country trade deal known as the Trans-Pacific Partnership this year.
After the final vote on fast track, the Senate plans to consider another piece of legislation to extend a program aiding workers who lose their jobs because of trade agreements.
The program is supported mostly by Democrats, some of who made getting a vote on it a condition of their support for the fast-track measure. Republican House and Senate leaders said their goal is to pass it this week.
Workers' Aid
McConnell said final action on Trade Adjustment Assistance, as the worker aid program is known, would likely come Thursday. House Speaker John Boehner said his chamber will vote on the measure after that.
Senator Orrin Hatch of Utah, the top Republican on trade issues in the Senate and a longtime critic of of the worker-aid bill, said that to gain passage of the measure, "I'll vote for it myself if I have to."
White House spokesman Josh Earnest pleaded with Democrats to continue their longtime support for the program. Opposing it now "would be akin to cutting off your nose to spite your face," he said.
"Right now we believe there is a clear path for both TPA and TAA to come to the president's desk," Earnest said.
The worker-assistance measure is being added to separate legislation, H.R. 1295, which promotes trade with poorer countries. McConnell also added a provision to benefit the steel industry in an effort to solidify bipartisan support.
Cruz, Paul
Thirteen Democrats voted with 47 Republicans to advance fast track in the Senate Tuesday. Five Republicans -- including presidential candidates Ted Cruz of Texas and Rand Paul of Kentucky -- voted with 32 Democrats not to move the bill forward.
Hatch complimented Obama for staying engaged to secure Democratic backing until just before the vote.
"In this case, he really did work it hard," Hatch said. "Without him I'm not sure we would have gotten this result."
Maryland Senator Ben Cardin, a Democrat who opposed advancing the measure Tuesday after voting for passage last month, said he changed his vote because the worker training assistance was now a separate measure and there was no guarantee that would pass.
"It may work, it may not work," Cardin said. He said he hadn't determined how he would vote on final passage of the fast-track measure.
Final Vote
McConnell said that the process he set up will put several trade bills on the president's desk before Congress adjourns for a week-long July 4 recess. He said Tuesday that the Senate will have a final vote on fast-track on Wednesday.
A national business coalition has lobbied hard for the fast-track bill, and the White House took up the fight last year in an unusual alliance with Republican congressional leaders. Many Democrats, who blame the 1994 North American Free Trade Agreement for the loss of U.S. manufacturing jobs, are opposing Obama.
"It's clear that our trade policy creates winners and losers," said Ohio Democrat Sherrod Brown, who has led opposition to trade negotiating authority. "Trade agreements do not create winners everywhere. People in my state are losing jobs from these trade agreements."
Cruz voted against the bill after previously supporting it. In an opinion column published by Breitbart.com, he said while free trade is good for the U.S., the fast-track bill is part of a "corrupt" deal among Republicans, Democrats and the White House involving efforts to extend the Export-Import Bank.
'Bizarre Things'
"When people run for president you can expect some very bizarre things," Hatch told reporters.
The AFL-CIO, which opposes fast track, made a last-ditch bid to stop the measure with ads on the 100 most-trafficked websites in the Washington area, said Carolyn Bobb, a spokeswoman for the group. The ads say the measure would allow harm to the environment and wouldn't help workers who lose their jobs because of trade agreements.
Business Roundtable President John Engler in a statement after the vote, "This bill will help ensure U.S. negotiators bring back the strongest possible trade agreements for American business and workers."