Mitch McConnell Wants to Remove Jefferson Davis Statue from Kentucky Capitol
By and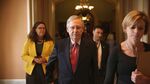 Kentucky's most powerful Republican politician on Tuesday suggested taking down the statue of Confederate President Jefferson Davis from his state's Capitol.
The surprising declaration by Senate Majority Leader Mitch McConnell, Kentucky's senior senator, came as officials of both parties in several states were moving to remove another powerful symbol of the Civil War — the battle flag of the Confederacy — from positions that suggest any official endorsement. The gunman who allegedly perpetrated a massacre in a black South Carolina church this week used the flag, among other symbols, to express his adherence to white supremacy.
"With regard to my own state, we curiously enough have a statue of Jefferson Davis in the Capitol in Frankfort," McConnell said. "Davis' sole connection to Kentucky was he was born there, and subsequently moved to Mississippi. And Kentucky of course did not secede from the union."
He questioned "the appropriateness of continuing to have a Jefferson Davis statue in a very prominent place in our state Capitol. Maybe a better place for that," he said, "would be the Kentucky History Museum." Earlier Tuesday, Kentucky Republican gubernatorial nominee Matt Bevin—who unsuccessfully challenged McConnell for the Senate in 2014, said in a statement that it would be "appropriate" to take down the Davis statue from the state Capitol.

McConnell, a 30-year Senate veteran, was asked if the statues in the U.S. Capitol should be revisited, said that "with regard to all the statues in this building, I honestly am not aware of what we have and what we don't have."
There is a statue of Davis in the U.S. Capitol's Statuary Hall, one of two representing Mississippi. Each state in the union is permitted to name two prominent citizens whose likenesses are represented in the Capitol. Ousting Davis from his prominent position could have a politically sticky domino effect, however. 
The U.S. Capitol has statues of other Confederates -- not in its attic -- but all over the building.
Those include Davis' vice president. A statue of Alexander Stephens -- the Confederacy's No. 2 man and himself a long-time members of Congress before and after the war, can be found also in Statuary Hall.
Robert E. Lee, the general in charge of the Confederate Army, is one floor down in the crypt.
Wade Hampton of South Carolina, a top Confederate calvary officer, can be found in the Capitol Visitors' Center. He was both a senator and a governor after the war, and his election as governor, during reconstruction, was marked by extensive violence by the Red Shirts, a paramilitary group that served the Democratic Party to work to disrupt elections and suppress black voting in the state.
Joseph Wheeler of Alabama is another Confederate officer (he went on to fight again for the U.S. in Cuba in the Spanish American War) is in Statuary Hall.
Zebulon Baird Vance of North Carolina is yet another former Confederate officer who can be found in Statuary Hall.