Ka-Ching! Sheldon Adelson and Fellow Billionaires Boost Republican Senate
The donors help propel the party's May cash haul ahead of the Democrats' fundraising.
By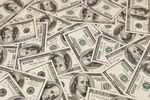 Republicans defending their Senate majority next year got a big boost from a handful of mega-donors, who helped propel the party's May cash haul ahead of the Democrats' fundraising.
Billionaire investment executive Paul Singer and Arkansas businessman Warren Stephens each gave the maximum $233,800 to the National Republican Senatorial Committee, the party's campaign arm. Close behind: Billionaire casino executive Sheldon Adelson his wife, Miriam.The Adelsons kicked in $226,800 apiece, according to filings released this week by the Federal Election Commission. Sheldon Adelson, with a net worth of $26.8 billion, is world's 26th richest person, according to Bloomberg Billionaires Index.

Each of the Adelsons also gave $226,800 last month to the National Republican Congressional Committee, the group charged with preserving, if not enhancing, Republicans 246-188 majority in the House. Ken Griffin, billionaire founder of Chicago-based hedge fund firm Citadel, maxed out to the NRCC at $233,800. Griffin ranks 238th on the Bloomberg Billionaires Index, with a net worth of $6.2 billion.
The cash gushers helped the Republican Senate campaign committee raise $4.5 million in May, compared with $3.6 million for the Democratic Senatorial Campaign Committee.
Republicans are defending 54-46 a voting majority in the 2016 presidential election year.
The House and Senate campaign committees can raise as much as $33,400 a year from an individual donor in their main accounts, plus an additional $100,200 per donor toward a new building fund and another $100,200 in a new recount fund. The limits were set by a campaign finance provision of an omnibus spending law enacted in December.