In Tennessee, Hospitals Want Obamacare, Republicans Don't
Some of the nation's biggest hospital chains stand to lose hundreds of millions of dollars if the justices invalidate the subsidies. Yet they haven't been able to make the state's Republicans budge.
By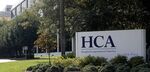 Conventional wisdom says big corporations that employ lots of people in a state generally call the shots with local politicians, especially when those corporations are the source of major campaign contributions.