Nikki Haley Calls for Death Penalty in Charleston Shooting
The South Carolina Republican said the state would want the suspect executed "without question."
By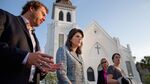 South Carolina's governor wants the person accused of killing nine people at a historic black church in Charleston to receive the death penalty.
"Without question," Governor Nikki Haley said Friday on NBC's Today show. "We... absolutely will want him to have the death penalty. This is the worst hate that I've seen and that the country has seen in a long time."
The Republican said the shooting at the historic Emanuel AME Church was "an absolute hate crime" that had "devastated" the state.
Also on Friday, two lawmakers in South Carolina House of Representatives said they would be renewing their push to pass hate crimes legislation in the state, the Charleston Post and Courier newspaper reported.
State Senator Clementa Pickney had been the church's pastor, and was among the gunman's victims. The suspect, Dylann Roof, 21, has been charged with nine counts of murder.
Haley also said in the interview that, despite President Barack Obama's renewed call for gun control legislation on Thursday, people should "focus on that one person" who carried out the shooting.