politics
Rand Paul on Charleston Shooting: 'There's A Sickness in Our Country'
Government can't solve the problem, the Republican presidential contender tells a conservative audience.
By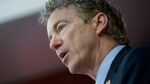 Kentucky Senator Rand Paul told a crowd of social conservatives that a "sickness" in the country was responsible for the mass shootings in South Carolina, adding that the problem "isn't going to be fixed by your government."
At the opening luncheon of the Faith & Freedom Coalition's annual Washington, D.C. conference, where he shared the stage with two other Republican presidential contenders, Paul went out of his way to address the massacre that left nine people dead in Charleston after a gunman opened fire in a predominantly black church.
"We had the shooting this morning," he said. The senator, who has been outspoken on the subject of racial violence, suggested that the problem is bigger and deeper than politics and policy.
"What kind of person goes into church and shoots nine people?" Paul lamented. "There's a sickness in our country. There's something terribly wrong. But it isn't going to be fixed by your government. It's people straying away, it's people not understanding where salvation comes from. I think if we understand that, we'll have better expectations of what to expect from government."
"Can government save you?" Paul said, as President Barack Obama, speaking to reporters at the White House, was calling for stricter gun control. "Can government be the be-all end-all? The reason I ask is that I meet with pastors, and they're looking at government for the answers. I look back at them and I say, 'I'm looking at you for help.'"
America's founders had understood that "liberty without virtue" was impossible, Paul recalled. He said he believes that wisdom has been lost.
Two months earlier, during the launch of his presidential campaign, Paul was criticized for stumping in South Carolina and not explicitly mentioning the police shooting of a black man, Walter Scott, in North Charleston. Paul had actually addressed the Scott shooting in interviews before the event, but that speech marked one of the last occasions when the senator gave a speech without mentioning events central to a message of equal justice.
At the Omni Shoreham, Paul went on to tell the crowd what has become a stock story in his stump speech—about the police detention of Kalief Browder, a young African-American who killed himself this month after spending 1,110 days in one of New York's toughest prisons for a theft charge that was eventually dismissed. Paul suggested, as he frequently does, that the GOP would thrive as the party of "the entire Bill of Rights," defending members of minority groups.
"You can be a minority for a variety of reasons," the senator said.
Before it's here, it's on the Bloomberg Terminal.
LEARN MORE