Food
How Zuma Is Taking Over the Restaurant World
The secret to chef-founder Rainer Becker's $200 million success: Never be content
By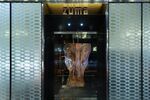 From the June 2015 edition of Reserve, a Bloomberg Brief publication.

Once upon a time, finance types flocked to steakhouses and pubs after work to spend lavishly. While a certain crowd still does, many traders are now to be found at Zuma, an izakaya-style modern Japanese joint that started in London and now has locations in fast-growing cities such as Dubai, Istanbul, and Miami, grossing more than $200 million in annual revenue.
Part of the Zuma formula is that they're all spectacular-looking—with glass elevators, fantastic views—and all are part bar, restaurant, and boardroom. The brainchild of German-born chef Rainer Becker, Zuma is exactly the kind of place you'd expect to find sophisticated international travelers. Peter Elliot of Bloomberg's Reserve spoke with Becker at his newest Zuma, in New York (see full review). Comments have been edited and condensed.
You were a chef. What was your path to becoming a restaurateur?
I used to work for Hyatt. After my first two years they offered me the chance to open the Park Hyatt in Tokyo, which was my first experience in Japan. I really fell in love with Japanese cuisine and culture—even though the first two years were bone hard. I loved it, but it was a serious culture shock.
And then to London. Why not back home to Germany?
After six years in Tokyo, it was clear to me that London had changed. It was much more European and multicultural, and that had a real appeal. So London was the place to apply what I'd learned in Japan, the ideas that were floating around in my head that had to come out.
You knew that Nobu was already the predominant, international, Japanese-style restaurant there?
Oh, yes. I definitely saw it as competition, but London had reached a point where it was big enough to please everyone as long as the quality was good. Any type of cuisine, as long as it's done right, will work in London or NYC.

So you chose Knightsbridge?
Not really. We were looking in Mayfair. The Knightsbridge site has no street frontage. Nobody wanted to have that site, but that site worked for me.
In a world of similar concepts—Nobu, Hakkasan, to name a few—what do you do that is different?
I look to my experience in Japan and bring it to the table, and that works. And I mean everything, from the design of the restaurant and materials—stone, glass, steel, and wood—that's what Zuma is. It's hard for me to explain. There's no plastic. And the food was very simple. The taste [of the food] is more important than the look on the plate. It needs to look good and appealing to the eye. But if the look is better than the taste, then it's just boring.
So the success of Zuma in London fueled your worldwide expansion?
Honestly, I never had a business plan for expansion. Maybe my obsession with the vision really did fuel a pattern.
It sounds like you met a common issue with expansion: You become successful, you want to keep your staff, and the best way is to give them new positions in new restaurants. Is that fair?
Yes. Your No. 2 two wants to be No. 1. I think where others go wrong is that they expand to expand. When we opened our next restaurant, I didn't even want it to be a Zuma—that's how we got Roka, a different restaurant, a different model. It may work to duplicate a theme, and it may be successful at first, but it's also boring and dangerous.

But yours remain consistently good. What are you doing right?
Never being happy. You can only expand if your team knows you. "Happy" is the wrong word. "Content." I don't know—it's that I am permanently in search of a perfection that doesn't exist.
If you're not on a standard expansion plan, then one might say opening in New York is the riskiest move yet? Why do it? And why here?
I didn't say I wasn't ambitious. And NYC has to be the most ambitious place to open a restaurant. Ever since my first visit here in 1989—seeing the skyline—it is the only place you have everything: design, architecture, talent. It gives me goosebumps just to talk about it.

NYC has Tao, Buddakan, some of the highest-grossing restaurants in the world. This wasn't daunting?
It's why I opened in Miami first. I had never worked in America—and I knew I would make mistakes. So I started somewhere where it was sunny. You laugh, but it's true. If the mind is more relaxed, it's more forgiving. New York is like London. If you make mistakes in the first week, you just close. I can't afford that. So Miami came first.
Tell me about your relationship with Arjun Waney, your business partner.
We had the same hairdresser and had both mentioned we wanted to open Japanese restaurants. Our hairdresser introduced us. Arjun was successful in his world [Pier 1 Imports, which he sold to J.C. Penney in 1992], me in mine. The key is, he isn't an investor who squeezes profit from the bottom. He goes all in, and that makes my job—food, design, the things I'm passionate about—much easier.
And Zuma NYC is already a hit. So does that mean other U.S. cities?
I'm going to stop for a bit—I don't want to lose my perspective. We've all made money, and I don't want to be corrupted. But I travel. I have dreams. I'm looking in Rome, Las Vegas, and maybe L.A. We shall see.

Peter Elliot is editor of Reserve and manages the lifestyle functions on the Bloomberg Professional service. He is Bloomberg's founding food critic and a James Beard Award winner. Opinions expressed are his own. Follow him on Twitter at @mrpeterelliot.
Before it's here, it's on the Bloomberg Terminal.
LEARN MORE