Hillary Clinton to Pitch Apprenticeships, But Not the Trump Kind
The Democratic front-runner will propose a $1,500-per-apprentice tax credit on Wednesday.
By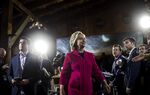 Hillary Clinton will call Wednesday for new tax credits for businesses that hire apprentices, drawing on a bipartisan idea for boosting on-the-job training.
Clinton will pitch a $1,500-per-apprentice tax credit during a visit to Trident Technical College in North Charleston, South Carolina, a campaign official said, offering a preview of her proposals aimed at encouraging businesses to take on the time and expense of training unskilled workers.
The Democratic presidential hopeful sees the apprenticeship as a "win-win" mechanism for workers and employers, the official said, and believes that all Americans, especially young people, should be able to learn new skills to get a job or move up the corporate ladder and sees the expansion of apprenticeships as one way to do that.
The unemployment rate for adults age 34 or younger was 7.8 percent in May 2015, higher than the overall jobless rate of 5.5 percent. Among young African-American adults, it was 14.6 percent. Sixty percent of Trident Technical College's students are female, and nearly one-third are African American.
A 2012 Mathematica Policy Research study that's been cited by the Labor Department examined apprenticeship programs in 10 states and found that, nine years after enrolling, participants earned an average of $5,839 more than those who did not participate in such programs. 
Clinton's plan would include accountability measures to ensure that the credits result in certain employment and earnings outcomes, though the campaign official did not offer more details late Tuesday.
Last year, Senators Cory Booker, a New Jersey Democrat, and Tim Scott, a South Carolina Republican, offered a similar proposal, the Leveraging and Energizing America's Apprenticeship Programs Act. In an effort to encourage companies to take on younger apprentices, it would have given companies a $1,500 tax credit for workers under age 25 and a $1,000 tax credit for those over 25. Their proposal would have been paid for by barring the federal government from many printing publications that are available online.
Senators Maria Cantwell, a Washington Democrat, and Susan Collins, a Maine Republican, rolled out a separate bill last year, the Apprenticeship and Jobs Training Act of 2014, which would have given employers a $5,000 tax credit for training workers in high-demand fields such as health care and technology.
Clinton's Wednesday trip is her second to South Carolina since launching her presidential campaign and is part of a week of travel to all four early primary and caucus states. Before heading to North Charleston, she'll meet with community leaders in Orangeburg to discuss rural issues.
Her apprenticeship proposal comes, coincidentally or not, just a day after Donald Trump, host of the NBC's The Apprentice and Celebrity Apprentice franchises, announced that he is running for president. Those shows don't offer the same kind of training that Clinton's talking about.