Donald Trump: 'I Love Neil Young. And He Loves Me!'
The billionaire presidential candidate puts a ribbon on the day's biggest fight over musical rights.
By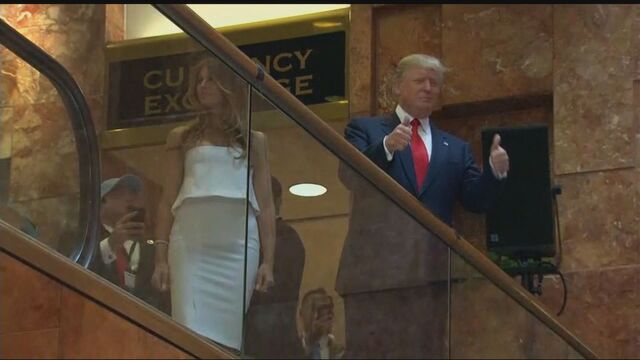 Most candidates stride to their inaugural campaign stage with a touch of humility, surrounded by regular folk standing in for the great American heartland. But Donald Trump found a way of performatively escalatoring to his official announcement Tuesday, as light beamed down to the ground floor of his trophy tower. Thumbs-ups were interspersed. Big news was coming, and the music had to fit the mood. From loudspeakers on high came the song. "Rockin' in the Free World," by Neil Young. Fitting, from a man whose biography on his corporate website describes him as "the very definition of the American success story." Free world indeed.
Except on Tuesday afternoon, Neil Young's longtime manager, Elliot Roberts, said in a statement to Mother Jones that Young had not authorized use of the song. Roberts wrote, "Mr. Young is a longtime supporter of Bernie Sanders." A statement from another Young representative, Rick Gershon, said, "Donald Trump was not authorized to use Rockin' In The Free World in his presidential candidacy announcement. Neil Young, a Canadian citizen, is a supporter of Bernie Sanders for President of the United States of America." Many laughed "Neil Young Wants Nothing To Do With Donald Trump," read a headline on Gossip Bucket.
But, according to Trump, this is far from the case. "We actually have the rights to the song through whatever mechanism it is," he said. Still, his campaign has announced that it would "respect" the musician's wish, "and not use it because it's the right thing to do."
Some things are more important than campaign songs, after all.
"You know he's a friend of mine?" Trump said, an interview Wednesday with Mark Halperin and John Heilemann on Bloomberg's With All Due Respect. "I fully understand. He's a very liberal guy."
Trump also said that Young had phoned him only two days ago. "He called me up. It had nothing to do with the song. He called me to say hello."
"I love Neil Young," the real-estate tycoon said. "And he loves me! We have a great relationship."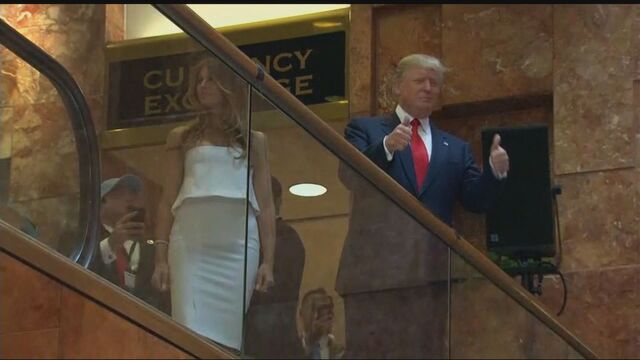 The two had met, Trump said, after the mogul went to a concert at Carnegie Hall. According to Trump, "he said, I saw you in the audience, I'd love to meet you. And I said, absolutely. He came up to my office like whenever that was, the day after the Carnegie Hall."
On Wednesday afternoon, Neil Young posted on Facebook that a candidate had used his song for a political announcement without his permission. (Young did not name the candidate.) He wrote, "A picture of me with this candidate was also circulated in conjunction with this announcement but It was a photograph taken during a meeting when I was trying to raise funds for Pono, my online high resolution music service. Music is a universal language. so I am glad that so many people with varying beliefs get enjoyment from my music, even if they don't share my beliefs. But had I been asked to allow my music to be used for a candidate—I would have said no."
The music for Trump's announcement had been carefully selected. Reporters entered as the angelic voices of the London Bach Choir that open the Rolling Stones' "You Can't Always Get What You Want," which gave the morning a highly celestial feel. That song looped, with Aerosmith's "Dream On," Puccini's "Nessun Dorma," and Adele's "Rolling in the Deep."  Teenage girls from Iowa who'd been plucked from inside Tiffany's next door and given tee-shirts bearing Trump's name bopped on.
Before Ivanka Trump took the microphone to introduce her father, "Memories" from "Cats" blared.
But the track of honor was by Neil Young, a man who, in his Wednesday Facebook posting, called the United States Supreme Court's ruling on Citizens United proof of corruption. He wrote, "Increasingly Democracy has been hijacked by corporate interests." Young wrote, "I choose to speak Truth to this Economic Power." And later, "I do not trust self serving misinformation coming from corporations and their media trolls. I do not trust politicians who are taking millions from those corporations either. I trust people. So I make my music for people not for candidates." He signed his letter, "Keep on Rockin in the Free World."
The song, on the level of lyrics, itself is not free of politics. It comes from Young's album Freedom, released in 1989, the year of the falling of the Berlin wall. It has been used to trumpet 'American values' in the collapse of Communism. But in its lyrics, the song explicitly criticizes the ideology of a Republican president, George H. W. Bush, who had recently taken office. Young wails:"We got a thousand points of light / For the homeless man / We got a kinder, gentler, / Machine gun hand."
It plays in the credits of Michael Moore's "Fahrenheit 9/11."
Rolling Stone, naming it the 216th best song of all time, described it in 2011 as "raucously ambivalent song about the pride and guilt of being an American."
Which sounds exactly how some might feel, reading about a friendship between Neil Young and Donald Trump.