Donald Trump: Club For Growth Is Attacking Me After Seeking $1 Million Donation
The real estate mogul sends Bloomberg a recent letter from the group, which fires back at him.
By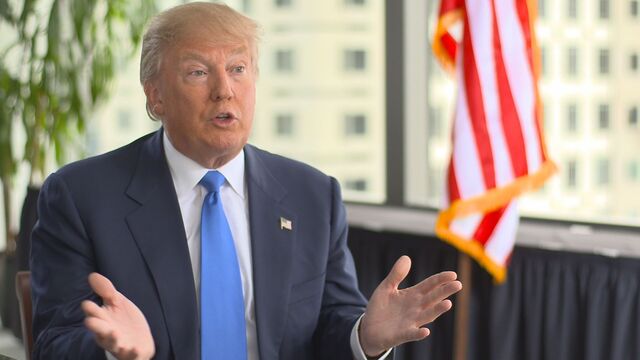 Donald Trump suggested Wednesday that the Club For Growth is going after him because he did not heed its recent request to donate $1 million.
Just hours after Trump announced his candidacy for president Tuesday, the conservative advocacy group released a statement calling on him to be excluded from the Republican debates.
"He is not a serious Republican candidate, and many of his positions make him better suited to take on Hillary Clinton in the Democratic primary," said Club for Growth President David McIntosh, pointing to his past stances calling for "universal health care" and a one-time tax on individuals worth more than $10 million.
The New York-based real estate mogul responded by saying the well-financed conservative group asked him for a donation of $1 million just two weeks ago.
"They came up to see me very recently," Trump told Bloomberg TV's With All Due Respect in an interview with Mark Halperin and John Heilemann set to air Wednesday. "And they sent us a letter, I think we have it, asking for a tremendous contribution."
"I was shocked by the amount of money we're talking about," he said.
Trump adviser Corey Lewandowski added, referring to McIntosh: "He couldn't get a check fast enough so he does this. Does he have no dignity?"
A letter from McIntosh dated June 2, 2015, and addressed to Lewandowski thanks him for "taking part in my meeting with Mr. Trump." Trump sent an electronic copy of the letter to Bloomberg.
"During our meeting," McIntosh wrote, "Mr. Trump expressed an interest in supporting the Club for Growth ... Enclosed is a letter for Mr. Trump and a request for a $1 million contribution to the Club for Growth." McIntosh added that he'd be "very grateful" if Lewandowski shared the request with Trump.
Club For Growth spokesman Doug Sachtleben said Trump "initiated a serious interest in donating to the Club for Growth, so we responded to him, just as we do with all potential donors."
"But that doesn't change the fact that the Club for Growth PAC thinks he's an unserious candidate and would make a terrible president, just as we publicly pointed out during his last political publicity stunt in 2011," he said.
Trump appears likely to qualify for the first Republican debate in Cleveland on August 6, according to the rules established by Fox News, which is hosting.

—Kendall Breitman contributed to this report.