Hillary Clinton Conjures the Wisdom of French Parents
Universal pre-school isn't a new idea for the presidential candidate.
By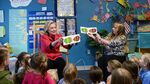 On Monday at a YMCA in New Hampshire, presidential candidate Hillary Clinton sat in front of construction-paper octopuses and hand-prints and read Eric Carle's The Very Hungry Caterpillar to a pre-kindergarten class. It was a fitting entrée to her campaign's first set of policy proposals: universal, high-quality preschool for every American four-year-old.
As Bloomberg's Jennifer Epstein reported, the morning program was a way for Clinton to embrace "her new role as a grandmother and her longer-term one as a child advocate." It may have called to mind a policy of New York City Mayor Bill de Blasio: the introduction of universal pre-kindergarten in New York. (In April, Clinton appeared at an education center in Brownsville, New York, alongside New York City first lady Chirlane McCray to speak about early childhood care.)
But this is not a new calling card for Clinton. Some of the details of her plan overlap with policies she favored 25 years ago, as an advocate, based on a visit to France.
In 1990, Hillary Clinton, then chairman of the board of the Children's Defense Fund in Washington and the first lady of Arkansas, published an op-ed in the New York Times arguing for daycare as the right of every child. She had recently joined a team of childcare professionals who spent two weeks in France, and had learned a thing or two from the French system of, well, bringing up bébé. She wrote:
Our group - including a pediatrician, a Senate aide, a state government official, academics, day care administrators and representatives from organized labor and business -visited schools and spoke with ministry officials, elected office-holders, educators, health professionals, business and labor representatives.

What we saw was a coordinated, comprehensive system, supported across the political spectrum, that links day care, early education and health care - and is accessible to virtually every child.

Much more significant, though, are the pervasive beliefs in France that children are a precious national resource for which society has collective responsibility, and that one goal of a child care system is to help children develop and thrive.

We found sharp contrasts between the French and U.S. child care systems.
She went on to write about France's policy of mandated paid parental leave for child birth as well as adoption, which "acknowledges society's obligation to nurture strong parent-child ties." In the United States, by contrast, "the cost and disruption of child bearing is viewed as a private choice and responsibility."
Clinton wrote:
Throughout the 1980's, debate over child care in the U.S. always seemed to focus on ''family values.'' This assumes that parents alone can always determine and then provide - personally or through the marketplace - what's best for their children and, hence, society.

But this view has allowed our Government and, to a much larger extent, business to ignore the needs of America's children and their parents. It also discounts the extent to which economic realities determine access to quality child care.
Twenty-five years later, President Barack Obama, in his State of the Union address, called childcare a "must-have," not a "nice-to-have."  
"In today's economy, when having both parents in the workforce is an economic necessity for many families, we need affordable, high-quality childcare more than ever," he said. It is still not the law.
Three years after Clinton's op-ed, a reporter at the New York Times who happens to be my father, Steven Greenhouse, detailed the strength and standards of French preschools, which he learned from having a daughter—me—in attendance. France's first child-care centers were established in the early 19th century to help the families of women who were getting jobs in an industrializing city; they exploded in size after World War II, to help protect children from disease and hunger (with impeccable food, I might add). He wrote of options available: public preschools, parochial preschools, day-care centers or day-care homes, all free or amply subsidized.
"Concluding that our daughter, Emily, would do better in a more intimate situation," my father wrote in 1993, "we sent her not to a day-care center but to a day-care home. France has 30,000 such homes—what amounts to a network of full-time government-licensed baby sitters who look after 57,000 children under the age of 3. Baby sitters must pass medical and psychological exams, and their homes are inspected for safety."
As Rebecca Traister wrote Sunday in the New Republic, Clinton is returning not to her years as secretary of state, or senator, or even first lady of the United States, but to her "deeper past."
Twenty-five years ago, a children's defender, Clinton was inspired by the example of a gallic country across the Atlantic, where welfare is not a burden, pleading, "Before we lock ourselves into a makeshift, inadequate child care policy, we ought to consider valuing children, French-style. To do our children and our country justice, we need to develop a nationwide consensus on how to best nurture our children, and, through that nurturing, prevent the personal and social costs we all pay when children's needs are not met." 
She could have uttered the same sentence Monday in New Hampshire, on the road to the American presidency.