Hillary Clinton Conjures the Wisdom of French Parents
Universal pre-school isn't a new idea for the presidential candidate.
By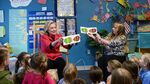 On Monday at a YMCA in New Hampshire, presidential candidate Hillary Clinton sat in front of construction-paper octopuses and hand-prints and read Eric Carle's The Very Hungry Caterpillar to a pre-kindergarten class. It was a fitting entrée to her campaign's first set of policy proposals: universal, high-quality preschool for every American four-year-old.