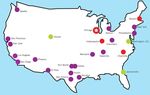 Imagine this: You trudge off the plane at O'Hare, cranky and disheveled—but luckily, it's beer time.
Not so fast: Five o'clock brings no discount drinks in the Chicago. In fact, happy hours—time-specific discounts on alcohol—are forbidden in the entire state of Illinois. That is, unless the governor finally signs into law the bill passed earlier this month that would allow bars and restaurants to set reduced drink prices for a portion of the day.
More bad news: Chicago isn't the only large U.S. city to ban happy hours. CityLab took a look through the law books of the 25 biggest metropolises in the U.S. to map where you can grab a cheap post-work brew and where you can't. Bookmark this for your next cross-country trip.
Why are the laws so different in different cities? Many bans were implemented in the 1980s when citizen groups led by Mothers Against Drunk Driving presented state legislatures with some scary statistics. In 1982, for instance, more than half of the country's fatal crashes involved at least one driver with a blood alcohol level of .08—the legal limit. (By 2013, the number of fatal crashes involving drunk drivers had dipped to 31 percent, though it's unclear exactly which factors contributed to the decline.) In 1984, the same year Massachusetts passed its anti-happy hour law, President Ronald Reagan declared the first National Drunk and Drugged Driving Awareness Week, and Congress passed the National Minimum Drinking Age Act, which effectively set the federal drinking age to 21. The variability in cities' happy hour laws can be chalked up to local politics and general sentiments about drinking.
There are some cities—cheers to you, Jacksonville, Florida—where there are very few rules concerning happy hours. We've marked these in green.
Chicago, and the other cities that ban discounted drink bonanzas, are marked in red. (But stay tuned—Chicago's law could change any day now.)
Still others (in purple) allow happy hours to happen, but with restrictions: they can only take place at certain times of day, at certain price levels, and in certain quantities. In Austin, for instance, purveyors are compelled to close up happy hour shop at 11 p.m. California establishments can't sell two drinks for the price of one. In New York, bars can't offer beers at less than half their normal price (though the state alcohol board confirmed last year that your bottomless brunches are safe). Pennsylvania can only have two hours of happiness per day, and not between midnight and closing time. So drink up—responsibly, of course—where and when you can.