In Iowa, Bernie Sanders Gets Pressed on Immigration
Visiting a town with a sizable Hispanic population, the presidential candidate is asked to expand on his immigration platform.
By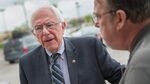 It was the closest Senator Bernie Sanders had come to getting heckled during his trip to Iowa. As Sanders was leaving a town hall meeting in Marshalltown, Iowa, on Saturday, Isaac Medina, a 19-year-old University of Iowa sophomore, followed the Democratic presidential candidate out of the building with a question he hadn't been able to ask during the question-and-answer session: What was Sanders going to do about immigration?