politics
'Combat-Ready' Chris Christie Contrasts Himself With Jeb Bush
The Republican touts his blue-state credentials.
By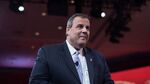 Likely Republican presidential candidate Chris Christie said Sunday that the differences between himself and primary rival Jeb Bush come down to who is more ready to fight. 
"I have great respect for Jeb," said Christie, the New Jersey governor, on ABC's This Week. "He was a very good governor. But if you're asking one of the things that makes me different is I think I'm combat-ready for Washington, D.C., and you need to be in order to know how to work with people, how to bring people together. I've done that in New Jersey in a way that lets me get 61 percent of the vote for reelection."
The comments come a day before Bush, the former governor of Florida, is scheduled to announce his presidential campaign. Christie, who has not yet formally joined the race, pointed out that Bush governed with a majority-Republican legislature, while Christie has served with Democratic statehouse leaders in his traditionally blue state.
"The fact is that people know I know how to bring folks together and how to fight when I need to," Christie said. "And I think sometimes with folks who are in red states, they don't have as much experience with that."
Before it's here, it's on the Bloomberg Terminal.
LEARN MORE