While Hillary Clinton Rallies in New York, Bernie Sanders Opens Iowa Field Office
The underdog says his campaign won't be able to match the size of Clinton's Iowa operation, but can be competitive nonetheless.
By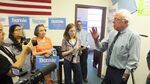 While Hillary Clinton was preparing for her first formal campaign rally in New York City Saturday, underdog Democratic candidate Bernie Sanders was holding a press conference and open house in his first Iowa field office. Down the hall from Team Sanders, a "Hillary for America" sign was displayed outside another office. 
Earlier, the Vermont senator's campaign sent a fundraising e-mail to supporters with the subject line, "It's not about me or Hillary Clinton." Sanders wrote that the "massive turnout and energy" at his events "remind me that this campaign is not about Bernie Sanders. It's not about Hillary Clinton. And it's not about Jeb Bush. It's about the needs of the American people."
It was inevitable, though, that Sanders' event would be all about Hillary Clinton. And sure enough, the first question was about Clinton. Specifically, what did Sanders think of her message and her launch? 
Sanders said that he's never run a negative ad in his life, but that doesn't mean certain people don't want him to go after Clinton, seen by most as prohibitive front-runner for the Democratic nomination. "In Washington every day I'm being asked to attack Hillary Clinton. That's right. Literally, people get angry with me because I don't attack her. But I'm not going to. We're going to deal with the issues."
Sanders expounded on his policy differences with Clinton, and chided the former Secretary of State for not stating her positions on various subjects. He voted against the war in Iraq, he noted, and has voiced strong opposition to the Trans-Pacific Partnership, President Barack Obama's hoped-for sweeping Pacific Rim trade pact. 
"Yesterday, and I'm very proud of this, as one of the leaders in the Senate working against this disastrous Trans-Pacific Partnership, the House took a good step in defeating it," he said. "You can be for it, or against it, but I don't understand how you can have no opinion on this issue and sadly that is the Secretary's position." 
Sanders said the same was true for other hot-button issues including potential approval of the Keystone XL oil pipeline, the re-authorization of the U.S. Patriot Act, Wall Street reform, and raising the minimum wage to $15 an hour.  
The office opening was part of a three-day swing through the first caucus state. On Friday night Sanders held a town hall at Drake University in Des Moines, attended by over 700. In the campaign office on Saturday, about 50 supporters and members of the press showed up. Sanders said he has five people on staff in Iowa, but that the organization was expanding to include members of Run Warren Run—a now-defunct effort to draft Massachusetts Senator Elizabeth Warren to run for the White House—and would eventually open more offices. 
Sanders said his campaign wouldn't be able to match the size of Clinton's Iowa operation, but could be competitive nonetheless. He held the same sentiment about financing the campaign.
"It's no great secret that we're not going to have as much money as the other candidates, that's just a fact," he said. "But we are going to have enough money to win."