Obama Goes All In on Trade Deal Passage
By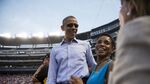 President Barack Obama is all in. There's no couching or caution, no hedging or looking for escape valves. His decision to swing by the congressional baseball game last night, followed by his visit Friday morning to Capitol Hill to talk to House Democrats behind closed doors solidified that in the closing moments of congressional negotiations over his authority to negotiate trade deals, it is all on his shoulders. 
This isn't exactly breaking news—the president and his team have made clear for months that this was one of (if not the) top policy target of his second term. But his push over the last few weeks has been a tactical shift. A president that has often eschewed the overt gestures identified in Washington as so central to relationships with with lawmakers has embraced them. In doing so, Obama has left himself completely open to the blame if the vote fails. His party holds the keys to whether he gets the fast-track authority his team says it needs to finalize the Trans-Pacific Partnership trade deal. He's now positioned himself as the only one who can close the deal. 
"It's really about whether Democrats are going to support their president or not," Rep. Paul Ryan, the Wisconsin Republican leading his party's negotiations said on CNBC. 
Thousands of words (and probably a book or two) have been written about the president's relationship, or lack their of, with lawmakers on Capitol Hill. It's the type of stuff that elicits immediate eye-rolls from White House aides for a number of reasons, most notably regarding whether in the current polarized political environment, a few extra meals or rounds of golf with the Republicans now controlling both chambers would help anything at all. It's also not like he hasn't put any effort into it. He's worked the phones and held the Oval Office meetings. He's done a few private bipartisan dinners and the round of golf. His revamped legislative affairs team has, for the most part, gotten high marks. 

Yet the grumbling from lawmakers, specifically House Democrats, about their lack of care and feeding over the years is real. So it's fair to excuse those same Democrats, relegated to the minority in the chamber in 2011, if they're a little unsure of how to handle all the attention Obama has directed their way in advance of today's make-or-break trade votes. 
"He's done everything except let me fly on Air Force One," Rep. Cedric Richmond, a Louisiana Democrat, told the Christian Science Monitor. Richmond, who has said he's still leaning no, is only somewhat kidding. Obama has unleashed just about every tool at his disposal as president to persuade skeptical House members. There are actually Air Force One rides and dinners. There have been coordinated pushes with businesses located in specific members' districts. There have been phone calls and meetings at the White House. As for his visit to Nationals Park for the congressional baseball game? Richmond just happens to be the star pitcher for the Democrats. 
This has all come as he has publicly battled opposition from one of his party's biggest stars (Senator Elizabeth Warren), a presidential candidate (Senator Bernie Sanders), and its staunchest allies (unions.) In all three, Obama finds himself running up against vocal and increasingly activated grassroots networks. Still, the unlikely Obama-GOP-big business alliance was able to secure a fairly comfortable margin of victory in the Senate just last week. 
The idea that losing this vote in the House would effectively "end" his presidency, or send it firmly into permanent lame-duckness, is the type of notion scoffed at by the president's team. There's plenty Obama plans on doing over the next 18 months on both the domestic and foreign policy fronts. But this is also a White House that is very careful about what initiatives the are seen as leading on. For better or worse, Obama's team is always cognizant of how he'll be viewed at the end of any policy or legislative showdown (which makes sense, of course—that's what many of them are paid to do.) But on trade—on this issue that has so completely fractured his own party—there's no life raft or emergency exit plan. If the vote goes down, it's on Obama. 
Since the day after sweeping Republican victories handed them the majority in the Senate November, Obama has taken to the sports to explain to everyone why his final two years in office won't be dull. "I don't need to remind you that big things happen late in the fourth quarter," Obama said earlier this year. For someone who fancies himself a clutch player, Obama couldn't ask to be in a better spot to make one of those things happen—if only he can convince a few people in his party to come along with him.