Chris Christie Says His Brash Style Could Work on Vladimir Putin
The New Jersey governor argued that directness has its virtues.
By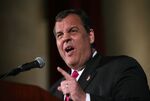 New Jersey Governor Chris Christie told a crowd in Iowa Thursday that his blunt persona could pay dividends when dealing with Russia and Iran.
Speaking to a gathering of about 150 Republicans in a West Des Moines ballroom, Christie said the last thing the country needs is "another college professor" as commander-in-chief, and proceeded to criticize everything from President Barack Obama's handling of foreign affairs to fellow Republicans' handling of the Patriot Act standoff.
"Aggression happens in this world in response to weakness and peace happens in this world in response to strength," Christie said, receiving a mix of applause and laughter as he peppered his speech with jokes and anecdotes that have become stop-lines in his stump speeches. 
"If I did decide to run for president, and if I were ever elected, there's a lot of things people might say about that bluntness, directness and straightforwardness but I will tell you this: Vladimir Putin would never have to wonder what I thought was acceptable and what was unacceptable," he said. "And the Ayatollah in Iran would understand that there would be no new negotiations with the United states of american until they've publicly said and recognized the right of America to exist and of Israel to exist."
Christie, 52, has said he plans to announce his presidential ambitions after he makes is mind up later this month. While he turned down pleas to run four years ago, he's now squeaking into the rank of 10 Republicans who'll make the first debate in Cleveland this August.
The governor released his education plan earlier in the day at Iowa State University in Ames, where he called for allowing college students to perform community service in exchange for grants to lower student-loan debt and greater transparency . On Friday, he's scheduled to hold a town hall meeting in Cedar Rapids.