175 Quadrillion Zimbabwean Dollars Are Now Worth $5
Godfrey Marawanyika and Paul Wallace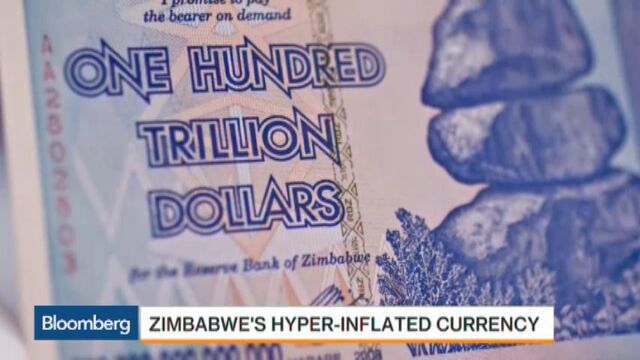 The Zimbabwean dollar will be taken from circulation, formalizing a multi-currency system introduced in 2009 to help stem inflation and stabilize the economy.
The central bank will offer $5 for every 175 quadrillion, or 175,000 trillion, Zimbabwean dollars, Governor John Mangudya said in an e-mailed statement from the capital, Harare. While it marks the official dropping of the currency, transactions in the southern African nation have been made using mainly the U.S. dollar and rand of neighboring South Africa for six years.
"The decommissioning of the Zimbabwean dollar has therefore been pending and long outstanding since 2009," Mangudya said on Thursday. "We cannot have two legal currency systems. We need therefore to safeguard the integrity of the multiple-currency system or dollarization in Zimbabwe."
The economy plunged into crisis after the government started a campaign in 2000 of violent seizures of white-owned commercial farms to distribute to black subsistence growers, slashing exports of tobacco and other crops. Inflation surged to 500 billion percent and the economy shrank during a near decade-long recession that ended in 2009. Under policies implemented by a coalition government, the economy began expanding and the recognition of foreign currencies as legal tender helped tame inflation. Consumer prices fell an annual 2.7 percent in April, according to the statistics agency.
Quadrillion Dollars
Zimbabweans can convert their local dollars between June 15 and Sept. 30 at commercial banks, building societies and postal agencies, Mangudya said.
Savers with Zimbabwe dollars in their bank accounts will get a flat $5 for anything up to 175 quadrillion Zimbabwean dollars. They can convert any cash they have "on a no questions asked basis" at a rate of $1 to 250 trillion Zimbabwe dollars for notes printed before 2009, Mangudya said.
The move demonstrates the central bank's "commitment to the multiple-currency system," Mangudya said. Zimbabwe needs to increase its foreign reserves, improve its fiscal management and strengthen the financial sector before it can change the system, he said.
Read this next:
Before it's here, it's on the Bloomberg Terminal.
LEARN MORE