GE Wooed by Texas After Home State Connecticut Increases Taxes
Lauren Etter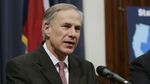 Texas Governor Greg Abbott knows a good opportunity when he sees it.
Abbott, a Republican, penned notes to executives at Connecticut-based General Electric Co., Aetna Inc. and Travelers Cos Inc. imploring them to pack up and move after lawmakers there raised taxes by more than $1 billion.
To entice the companies, Abbott touted a package of tax-cutting bills the Texas legislature approved in May, including a 25 percent reduction in the business franchise tax that will lower costs for companies by $2.5 billion over two years.
"I'm sure governors from across America are knocking down your door," Abbott wrote. "But how many of my colleagues just passed a total relief tax package of $3.8 billion?"
He scribbled a note at the bottom of the letter to GE Chief Executive Officer Jeffrey Immelt and the others saying "Come to Texas!"
Seth Martin, a GE spokesman, said he hasn't seen the letter, though the company is considering a move from Connecticut, where it has about 5,700 employees. GE is the 10th-largest U.S. company by market value.
"We have formed an exploratory team to look into the company's options to relocate corporate headquarters," he said. "It is too soon to comment further on the process."
Predecessor Perry
Abbott's overtures are a sign that the newly elected governor, who took office in January, will continue to try and lure companies from other states, much like his predecessor.
Former governor and Republican presidential contender Rick Perry was never shy about his swashbuckling approach to poaching corporations from other states. He spent hundreds of thousands of dollars on radio and television ads and offered millions in tax breaks to snag big names, including a new North American headquarters for Toyota Motor Corp.
Texas, which has no corporate or personal income tax, has the fourth-lowest tax burden, while Connecticut has the third highest, according to the Washington-based Tax Foundation.
Connecticut lawmakers raised taxes, including an income tax increase for the state's wealthiest residents and a $500 million increase in corporate tax liabilities, in an effort to patch a $170 million budget deficit.
A number of states, including New York, Ohio and Florida, have also made overtures to GE, Aetna and Travelers.
"Several states have made it known they would welcome a vibrant business like Aetna," said Cynthia Michener, a spokeswoman for Aetna, in an e-mailed statement. "Unfortunately, our home state has instead increased our tax burden by approximately 27 percent a year with the latest budget. These taxes hurt our ability to remain competitive and invest in Connecticut."
Patrick Linehan, a spokesman for Travelers, said the company had no comment.