Fox News, Union Leader Announce Forums for Candidates Who Don't Make First GOP Debate
It comes after more than four dozen New Hampshire Republican figures asked Fox and the RNC to allow more candidates into the first debate.
By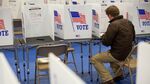 Fox News said Wednesday it will hold a forum on the afternoon of Aug. 6 for Republican presidential candidates who don't qualify for the party's first official debate that evening. 
The news came after the New Hampshire Union Leader newspaper said it would host its own forum on the same day, broadcast on C-SPAN, and after more than four dozen New Hampshire Republican figures asked Fox and the Republican National Committee to allow more candidates into the first debate. Fox had said only the top 10 candidates in an average of the five latest national polls would make the cut.
The new Fox forum, which will be held in Cleveland, Ohio, like the debate, will be open to announced Republican White House contenders who scored at least 1 percent support "in an average of the five most recent national polls, as recognized by Fox News" as of Aug. 4 at 5 p.m. ET, the network said in a statement.
"Our intention has always been to provide coverage to the wide field of Republican candidates and we are glad to present these details today," said Fox News Executive Vice President of News Editorial Michael Clemente in the statement.
Criteria for the Union Leader event, in the state that holds the nation's first presidential primary, "will include such things as established campaigns and staffing," the newspaper said. It is organizing the event out of concern about the Fox debate's outsized influence on the nomination race.
"What Fox is attempting to do, and is actually bragging about doing, is a real threat to the first-in-the-nation primary," publisher Joseph W. McQuaid said, according to the newspaper. "Fox boasts that it will 'winnow' the field of candidates before New Hampshire gets to do so. That isn't just bad for New Hampshire, it's bad for the presidential selection process by limiting the field to only the best-known few with the biggest bankrolls."
The RNC signaled that the new forums won't run afoul of its sanctioned debate plan so long as they stick to format. "Forums where candidates speak directly to an audience one at a time are permitted, but candidates who participated in an unsanctioned debate will not be permitted to participate in any sanctioned debates," spokesman Sean Spicer said in a statement reported by Politico.
Don Frederick contributed reporting.