politics
Bill Clinton Defends Boeing Donations in CNN Interview
As secretary of state, Hillary Clinton's job was to help sell U.S. companies' wares, her husband argues.
By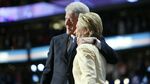 Former President Bill Clinton defended contributions from Boeing Co. to his foundation while his wife was secretary of state, saying that the donations for efforts to rebuild Haiti after the 2010 earthquake were not connected to any advocacy by President Barack Obama's administration.
Clinton told CNN in an interview that aired Thursday he did not know which companies had business before the State Department, and that his wife was probably unaware of who was giving to the Clinton Foundation. "She was pretty busy those years," he said. "I never saw her study a list of my contributors and I had no idea who was doing business before the State Department."
The Washington Post last year noted the juxtaposition of the former secretary of state's efforts to sell Boeing planes to the Russia with her efforts to win the company's support for a government pavilion at a World's Fair in China. The company also gave $900,000 to the Clinton Foundation's effort to rebuild Haiti.
The former president said his wife would have tried to help a U.S. company regardless of any donations it made. "She believed that part of the job of the secretary of state was to advance America's economic interests around the world," Clinton said in the interview. "If she hadn't been doing this economic diplomacy work nobody would have been doing it. But I never thought about whether there was any overlap."
Selling U.S. products abroad is part of the job, Clinton said. "America's always having to lobby for American-made airplanes because we believe that our competition overseas is more heavily subsidized by government," the former president argued. "I did it when I was president. I thought it was good, good for American jobs, good for America's economy, good for the national security of the countries involved." 
Clinton's remarks, taped at the Clinton Global Initiative America conference in Denver on Wednesday, come as his foundation's ties to companies and foreign governments during his wife's tenure in the administration have come under scrutiny because of her presidential candidacy.
"I wouldn't be a bit surprised if some of that wasn't going on when Boeing announced they wanted to invest some money in Haiti to help them recover from their adversity," Clinton said. "But I don't think that they did it to make America, the government, like 'em better."
As to whether some donors to his foundation might have been looking to curry favor with  his wife, Clinton said: "You never know what people's motives are.
"And I don't think Hillary would know either," he added. "But in this case, I'm pretty sure everybody that gave to Haiti in the aftermath of the earthquake saw what they saw on television, were horrified and wanted to make a difference."
(fixes typo in lede)
Before it's here, it's on the Bloomberg Terminal.
LEARN MORE