Bernie Sanders Calls Hillary Clinton's Silence on Trade Deal Offensive
Clinton has demurred about taking a stand on the legislation now before Congress.
By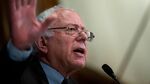 Hillary Clinton's refusal to take a stand on a controversial Asia trade deal is offensive, one of the Democratic presidential front-runner's challengers, Senator Bernie Sanders, said Thursday.
"I don't understand how, on an issue of such huge consequence, you don't have an opinion," Sanders, a self-described democratic socialist who launched a bid for Democratic nomination earlier this year, told reporters at a Christian Science Monitor breakfast.
The Vermont lawmaker is an outspoken opponent of the trade deal, known as the Trans Pacific Partnership. Clinton, who spoke in favor of giving President Barack Obama authority to negotiate a sweeping trade deal with Asian countries while she was serving as his secretary of state, has demurred about taking a stand on the legislation now before Congress.
Asked if Clinton's refusal to take a position offends him, Sanders said:
"Yes, it does."
The trade debate cuts across party lines and divides Democrats like Obama from key parts of the party's constituency: labor unions and environmentalists oppose the deal because they fear it would undercut wages in the United States and permit air and water pollution globally. The Senate approved authority for Obama to cut a deal that could not be amended by Congress; the House is currently considering the bill.
"If she's against this, we need her to speak out, right now. Right now," Sanders said. "I don't understand how any candidate, Democrat or Republican, is not speaking out on that issue."
Sanders is making economic inequality and the struggles of middle-class and poor workers the centerpiece of his admittedly long-shot bid for the Democratic nomination. He  said he plans to introduce legislation later Thursday to extend sick leave rights.
He insisted he's not the Don Quixote of 2016. 
"This is not an educational campaign. This is not a protest campaign. This is a campaign to win," he said. While "I freely admit that Secretary Clinton comes into this a heavy favorite," the senatoradded that "we have momentum. And our numbers are growing."
Sanders also said he would not approve a super-PAC. Such entities can establish themselves without the backing of candidates, who are legally not permitted to coordinate with them. But many candidates — including Clinton — have effectively allied themselves with the outside spending groups, signaling to supporters who want to write large checks where they should send them. Sanders, who considers the amount of money that has flowed into campaigns after the Supreme Court effectively gutted legal limits on contributions "obscene,"  said he won't do that.
"I don't want the money of the billionaire class," he said. "Which is easy for me to say because I wouldn't get their money if I wanted to."