Michelle Obama to Hadiya Pendleton's Classmates: 'They Don't Believe You Are Real'
The 15-year-old girl had taken part in President Obama's inauguration. The first lady attended her funeral.
By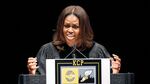 In a high school graduation speech Tuesday, first lady Michelle Obama urged students on the South Side of Chicago to take inspiration from a classmate, Hadiya Pendleton, whose shooting death led to calls to address gun violence.