Michelle Obama to Hadiya Pendleton's Classmates: 'They Don't Believe You Are Real'
The 15-year-old girl had taken part in President Obama's inauguration. The first lady attended her funeral.
By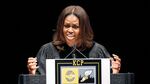 In a high school graduation speech Tuesday, first lady Michelle Obama urged students on the South Side of Chicago to take inspiration from a classmate, Hadiya Pendleton, whose shooting death led to calls to address gun violence.
"If Hadiya's friends and family could survive the heartbreak and pain, if they could found organizations to honor her unfulfilled dreams, if they could inspire folks across this country to wear orange [to] protest gun violence, then I know you all can live your life with the same determination and joy that Hadiya lived her life," Obama told Pendleton's classmates at the Dr. Martin Luther King Jr. College Preparatory, according to a transcript released by the White House.

Pendleton, a 15-year-old honor student, was killed in 2013 just days after participating in events for President Barack Obama's second inauguration. Her death sparked outrage over gun violence as Congress debated, and ultimately rejected, gun control measures in the wake of the 2012 Newtown, Connecticut, shootings. Michelle Obama also attended Pendleton's funeral.
During the graduation ceremony Tuesday, the first lady, who grew up on the South Side, said students at King Prep should work to show the world more about "the places where we've grown up" than violence, dropouts, or drugs.
Also on Bloomberg Politics: How to Be Black and Successful in America
"Graduates, in the end, you all are the ones responsible for changing the narrative about our communities," she said. "Wherever you go next, wherever you go, you all encounter people who doubt your very existence—folks who believe that hardworking families with strong values don't exist on the South Side of Chicago, or in Detroit, or in El Paso, or in Indian Country, or in Appalachia."
"They don't believe you are real," she continued. "And with every word you speak, with every choice you make, with the way you carry yourself each day, you are rewriting the story of our communities. And that's a burden that President Obama and I proudly carry every single day in the White House."