Jeb Bush Tours Auschwitz
The Republican presidential contender also plans to meet with top political leaders in each of the European countries he'll visit.
By and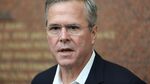 Republican presidential hopeful Jeb Bush made an unannounced stop in Krakow on Wednesday to tour the Auschwitz concentration camp in Poland.
Bush toured the camp with wife, Columba, Bloomberg confirmed. He didn't invite the roughly 10 reporters from the U.S. and Europe following the former Florida governor on his five-day, three-country tour, out of respect for the site and those affected, a Bush aide said.
More than 1 million people, mostly Jewish prisoners, died at the camp during World War II. 
Bush, who is expected to announce his plans to run for president on Monday in Miami, also has plans to meet top political leaders in each of the three countries he's visiting.
In Poland on Thursday, Bush will meet with President Bronisław Komorowski; the newly elected president, Andrzej Duda; Radek Sikorski, the head of the lower house of the Polish parliament; and Polish Foreign Minister Grzegorz Schetyna.
On Friday, Bush will meet with Estonian President Toomas Hendrik Ilves, aides to Bush and Ilves told Bloomberg.
In Germany on Tuesday, Bush briefly shook hands with Chancellor Angela Merkel at an economic conference in Berlin where both were speakers. Bush also met with and had meetings in Berlin with Germany's Finance Minister Wolfgang Schäuble and Foreign Minister Frank-Walter Steinmeier.