Jeb Bush's Education, as Told by Lincoln Chafee
The Democrat recalls the Republican as a high school chum and lovelorn teenager.
By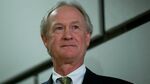 The chances that they'll face each other in a presidential election may be slim, but once upon a time, Lincoln Chafee and Jeb Bush were classmates at the elite Andover boarding school in Massachusetts.
Chafee, the former governor of Rhode Island who is mounting a long-shot bid for the Democratic nomination, talked about the former Florida governor and likely Republican candidate as a high school chum and lovelorn teenager Tuesday night on the Rachel Maddow Show on MSNBC.
MADDOW: What did you think of him? Were you friends?

CHAFEE: Yes, we were friends.

MADDOW: Really?

CHAFEE: Yes, so it's a strange world, isn't it?

MADDOW: It is a strange world. I mean, are you—have you maintained a friendship?

CHAFEE: Not really.

MADDOW: Yeah.

CHAFEE: He went off and married Columba, his senior year—or met her junior year, and then was in love all through his senior year and that's all he talked about and then married his freshman year in college and did a different life. But we've crossed paths since.
Both men, who graduated in 1971, have prominent New England Republican political pedigrees. Chafee's father, John, was finishing up six years as Rhode Island governor in 1969 and would go on to represent the state as a senator. Bush's father, who had also gone to Andover and was the son of a Connecticut senator, represented Texas in the House from 1967 to 1971 before going on to a famed political career that would lead to the White House. (For those keeping track, future Patriots head coach Bill Belichick was also in their class, according to the school.)
Jeb Bush actually met his future wife during a trip to her native Mexico during his senior year, according to the Atlantic, and married her in 1974.
Chafee started his career in public service as Republican but moved away from the party, becoming the only GOP senator to vote against the Iraq War (launched by another Bush and Andover alum) and eventually becoming an independent and then a Democrat.
Bush spokesman Tim Miller did not immediately respond to a request for comment about Chafee's recollections.