technology
Johnson Controls to Explore Options for Separation of Auto Unit
Mark Clothier and Will Daley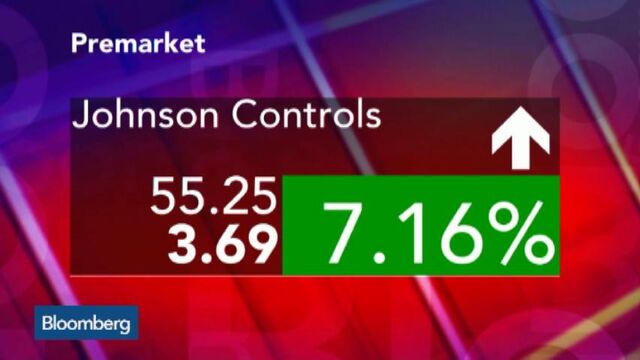 Johnson Controls Inc., once the largest U.S. supplier of auto parts, is considering options for separating its automotive business, the biggest but least profitable of the company's three units.
A joint venture, a sale and a spinoff are among the possibilities, Chief Executive Officer Alex Molinaroli said on a conference call. The company said Wednesday in a statement that the review doesn't have a timetable and that it hired Goldman Sachs Group Inc. and Centerview Partners as financial advisers.
The automotive business, which makes seats, instrument panels and door systems, accounted for 51 percent of the Milwaukee-based company's sales last fiscal year and only 31 percent of operating income. A separation wouldn't include the battery unit. The company's third division makes and services building systems such as temperature controls.
The automotive unit may fetch as much as $9 billion and may attract bids from Magna International Inc. and Faurecia, said Brian Sponheimer, a Gabelli analyst in Rye, New York. He recommends buying Johnson Controls shares.
"This is a business that, for the better part of its history, has had a number of disparate assets with strong positions in their markets," Sponheimer said. "This decision makes a much cleaner company to understand and attracts a buyer willing to pay a higher multiple."
Tracy Fuerst, a spokeswoman for Aurora, Ontario-based Magna, and Tony Sapienza, a spokesman for Nanterre, France-based Faurecia, declined to comment on the analyst's remarks.
Shares Rise
Johnson Controls rose 3.9 percent to $53.59 at the close in New York, the biggest daily gain since January. The shares have climbed 11 percent this year, outpacing the 2.2 percent increase for the Standard & Poor's 500 Index.
Johnson Controls' auto unit would be worth about six times fiscal 2016 year earnings before interest, depreciation, taxes and amortization, Sponheimer said. The building efficiency business would be worth about 12 times Ebidta and the battery division about 11 times, he said. Each of those units has a value of about $16 billion, Sponheimer said.
Molinaroli said in the statement that the automotive-business review "continues our strategy of proactive portfolio management to drive focus on strategic product-oriented businesses where we can be a global market leader, drive more profitable growth and deliver maximum long-term value for our customers and shareholders."
Johnson Controls also hired Wachtell, Lipton, Rosen & Katz as legal advisers for the review.
Before it's here, it's on the Bloomberg Terminal.
LEARN MORE