politics
Democrats Lead the Way in Co-Sponsorship of Colleagues' Bills
In bill co-sponsoring binge, some sign on more than once a day.
By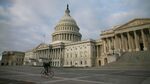 At the U.S. Capitol, despite appearances to the contrary, members have each others' backs.
Well, they do at least as far as signing on to co-sponsor their colleagues' bills. Representative Raul Grijalva is among the most prolific, adding his name to 334 bills since January.
That's a rate of more than two bills a day—including weekends.
"Is that alarming? I've been trying to show a little restraint," joked the Arizona Democrat, who is co-chair of the Congressional Progressive Caucus.
A Bloomberg review of Library of Congress records confirms widespread co-sponsoring activity during the first five months of this session of Congress, along with wide disparities in how often lawmakers add their names to legislation they didn't author. For instance, Representative Garret Graves has co-sponsored just 10 bills circulated by colleagues.

There's been no significant upward or downward shift in the overall numbers of co-sponsored bills in recent years, according to David Laband of the Georgia Institute of Technology's School of Economics, who has studied co-sponsorships.  Overall, he said, most bills have only a few co-sponsors, and it is rare to see 100 or more signatures on a single measure.
The question of why some individual lawmakers sign their names so often to colleagues' bills and others don't is one a number of academics have been trying to analyze. Motivations appear to be social as well as political. 
Whatever the individual reasons for cosponsoring a lot of bills—or hardly not—the practice hasn't always been common in both chambers, or even allowed.
Co-sponsorship ban
The House in 1909 banned the practice. That was reconsidered in 1967—in part to cut down on bill duplication and also to reduce on the concentration of power of committee chairmen. But bills could have no more than 25 co-sponsors. In 1978 that limit was removed.
Nowadays, the idea that a large number of co-sponsors should convince party leaders to advance a bill—especially if the names include members of both parties and are geographically diverse—is a refrain often heard in the Capitol.
Experts like Laband say the reality is significant co-sponsorship doesn't in itself improve the chances that a bill passes the House. In fact, most heavily co-sponsored legislation doesn't advance.

Who matters
What matters more is who cosponsors a bill, he said.
"It raises the interesting question of why individuals co-sponsor bills they know with virtual certainty will go nowhere," Laband said.
Co-sponsoring isn't necessarily altruistic. "There are a variety of patterns," says Gregory Koger, a political scientist at the University of Miami, who has written about co-sponsorship.
For instance, Koger said signing on to a colleague's bill is one way lawmakers can signal their degree of support on an issue without much political risk or effort. Also, it is a type of networking—a form of collegiality that some hope to parlay to party leadership posts.
Other studies go as far as to suggest there is a positive link between liberalism and conservatism and frequent co-sponsorship, or that a tendency to co-sponsor legislation is a function of a preference for big government.
Little risk
At the same time, because most bills never come to a vote (they either die in committee or are withdrawn), there is seen to be little political risk in co-sponsoring someone else's bill.
Koger said his work has shown that lawmakers in the minority party in Congress tend to co-sponsor bills more often, and also that lawmakers at the ideological fringes of both parties—liberal Democrats and Republican conservatives—do so more frequently than others.
There's also a reciprocal aspect to much of the co-sponsorship: You sign my bill, I'll sign yours.
Richard A. Seals Jr., an Auburn University professor who has co-authored a paper with Laband, has suggested that signing on to colleagues' legislation also fundamentally acts as a contract or commitment mechanism, "the legislative analog in trade credit."
Bill authors who are trying to build coalitions in support of their legislation don't have many real ways to guarantee follow-through on commitments, Seals noted:  "You can't pay someone for a vote." 
But getting a colleague to sign onto a bill provides a type of written record or commitment of support.
Rangel's no. 1
During this session, Representative Charles Rangel, a New York Democrat, leads the way in sharing his autography, signing on as a cosponsor to 390 bills or amendments so far. Next highest is Grijalva, with 334.
In the Senate, Democrat Sherrod Brown of Ohio tops the list, with 200 co-sponsorships.
"Is that right?" laughs Rangel, when told he is No. 1. He says, "I think it speaks for itself. If there is somebody that is working on something worthwhile, the only way to show my support is by signing up. I can't think of any better way to do it."
Grijalva explains that he is a frequent co-sponsor in part because he realizes bills introduced by fellow House Democrats "are not going to see the light of day with the Republican majority."
On the opposite end of the cosponsoring spectrum: House Republicans Rob Woodhall of Georgia, Justin Amash of Michigan and Garret Graves of Louisiana, none of whom have co-sponsored more than 28 bills or amendments this session. Senator Richard Shelby, an Alabama Republican, represents the low number in the Senate at 23.
'Effort to be engaged'
Shelby's office explained in a statement that he doesn't co-sponsor many bills because they "can change markedly in committee from what he signed onto."
Is frequent co-sponsoring a sign of good lawmaking?
The University of Miami's Koger says that he tends to think that, more often than not, "a legislator who co-sponsors a lot a bills is someone who is making some effort to be engaged in the legislative process."
Of course, not all co-sponsors are equal. If a bill's co-sponsors include party leaders, or leaders on that issue, "this can really help" advance the legislation, he said.
(Correction: An earlier version of this story incorrectly stated the number of measures cosponsored by Representatives Rob Woodhall of Georgia, Justin Amash of Michigan, Garret Graves of  Louisiana.)
(Corrects numbers of bills co-sponsored by Amash, Woodhall and Graves.)
Before it's here, it's on the Bloomberg Terminal.
LEARN MORE