Marco Rubio Says He Didn't Flip-Flop On Immigration But Hillary Clinton Did
The Republican presidential candidate oversimplifies Clinton's positions (and his own).
By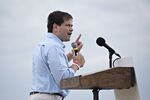 In a recent appearance on Fox News, Republican presidential candidate Marco Rubio deflected questions about his shift on immigration reform, saying there has been "no flip-flop" on his part and painting Hillary Clinton as the real flip-flopper on the issue.
"She's never done anything on it," the Florida senator said Thursday on Outnumbered. "She was a U.S. senator and never did anything on immigration. She gave speeches about it. It's interesting, a couple months ago she talked about—she's in favor of all citizenship. Just a few years ago she wasn't in favor of giving them driver's licenses. This has been a dramatic shift on her part and a changing of her opinion."
Also on Bloomberg Politics: Rubio: I've Done More on Immigration Than Hillary Clinton
There's a kernel of truth to Rubio remarks, though the son of Cuban immigrants vying to become the country's first Hispanic president oversimplifies the reality of both his and the Democratic front-runner's approaches to the complicated issue that looms large in the 2016 race to the White House.
Rubio is correct that Clinton opposed state efforts to allow drivers' licenses for undocumented immigrants during her 2008 campaign (after initially waffling during a debate), and that she supports them now, according to her campaign. While it reflects her thorough embrace of immigrant-rights priorities this campaign, drivers' licenses are a state issue that the next president won't deal with.
The rest of Rubio's remarks, however, are somewhat misleading. As a senator, Clinton voted in 2007 in favor of a sweeping immigration bill that overhauled the system and granted a path to citizenship to people in the U.S. illegally; the bill was blocked because it didn't have enough votes to overcome a filibuster. During her tenure, Clinton co-sponsored several bills to liberalize the system. In her 2008 presidential campaign, she vowed to introduce comprehensive immigration legislation in her first 100 days to grant unauthorized immigrants a pathway to citizenship (and, by extension, driver's licenses).
When asked on Fox News about his own change of heart on immigration reform, Rubio said "there's no flip-flop" on his part. "I still think we need to address it." While Rubio hasn't flip-flopped on the changes he wants to make to the immigration system, he has meaningfully shifted on how to go about it, abandoning his own bill and comprehensive approach in the process.
An evolution, and a new position
In 2013, the Floridian played a leading role in writing and shepherding legislation through the Senate that beefed up border security and enforcement, expanded legal immigration and provided a path to citizenship for people in the country illegally. Four months later, after the House of Representatives vowed not to consider the bill and Rubio's standing with the Republican base took a hit, he backed off and said he no longer favors a comprehensive approach to immigration, instead arguing that reform should be accomplished piece-by-piece.
"You cannot do it in one massive piece of legislation. The support isn't there," Rubio said in the Fox News interview. "This has been tried on three different occasions in the last 10 years and nothing has happened because people, rightfully, do not trust the federal government on the...enforcement piece."
Rubio's new position on immigration is nuanced. He still favors a path to citizenship (once immigrants pay fines and taxes and remain on provisional work permits for at least 10 years), but only after passing and implementing laws to beef up enforcement so as to convince Americans that illegal immigration is under control and overhauling the legal immigration system.
In April, Rubio wouldn't say if he'd sign his own bill into law. "That's a hypothetical that will never happen," he said, when pressed by CBS' Bob Schieffer.
Immigrant-rights and Hispanic advocates say his new position makes it harder to achieve reform. They note that while a comprehensive bill passed the Senate by a vote of 68-32 in 2013, the piece-by-piece approach that House Republican leaders say they prefer (which mirrors Rubio's new position) has gone nowhere.
Rubio has "retreated to sound bites that might hoodwink primary voters, but his betrayal combined with his too clever by half double talk mouth won't fly with Latino voters who care about immigration reform," said Frank Sharry, the executive director of the pro-reform group America's Voice. "They know that 'secure the border first' and 'step by step' are code for inaction in the immigration debate."
Also on Bloomberg Politics: Why Immigration Advocates Trust Jeb Bush Over Marco Rubio
A sequential approach is tricky because the pro-reform coalition is fragile and requires a variety of moving parts to hold together. For instance, many Republicans and the Chamber of Commerce won't back a bill unless it lifts barriers to hiring foreign workers, and most Democrats and labor unions won't support those measures without a solution for the undocumented population. Conservatives want stricter enforcement measures like requiring E-Verify for employers, but progressives aren't willing to go along with those measures without a legalization program. Break up the provisions and it becomes difficult to build support for any one piece.
"This is where I differ from everyone on the Republican side," Clinton said last month in Las Vegas while outlining aggressive pro-immigration policies. She called for a "full and equal" path to citizenship while decrying Republican proposals for legal status as "code for second class status."
The Clinton campaign declined to comment on Rubio's remarks about her.
Until Congress passes reform, Clinton said she would preserve and even expand President Barack Obama's executive actions to shield millions of people from deportation. "I would do everything possible under the law to go even further," she said, proposing to protect the parents of young undocumented immigrants who have been shielded under Obama's 2012 program called Deferred Action For Childhood Arrivals, of DACA. (Obama's actions cover the children but not their parents.)
By contrast, Rubio told Univision in April he "would cancel" Obama's 2014 executive actions if he were president and that DACA will "have to end at some point" but "I wouldn't undo it immediately." That's a meaningful difference between Clinton and Rubio that could affect millions of undocumented immigrants with the stroke of a pen if congressional inaction on the issue keeps up.