Indian Prime Minister's 'Despite Being A Woman' Remark Sparks Backlash
Narendra Modi offered his Bangladeshi counterpart, Sheikh Hasina, a rather backhanded compliment on Sunday.
By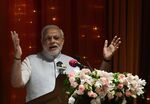 It is a political gaffe being heard around the world. 
During a state visit to Bangladesh on Sunday, Indian Prime Minister Narendra Modi offered Bangladeshi Prime Minister Sheikh Hasina a backhanded compliment so overt and unselfconscious that it has created a social media storm. 
"I am happy that Bangladesh prime minister, despite being a woman, has declared zero tolerance for terrorism," Narenda said of Hasina in remarks delivered at the University of Dhaka. 
On Twitter, many people quickly pointed out that India's second-longest serving prime minister, Indira Gandhi, had been a woman. 
Others responded in a more personal fashion. 
And throughout Monday, the calls to troll the Modi using the #DespiteBeingAWoman hashtag only increased, and soon it began trending on the site. 
Obscured in the controversy over Modi's remarks was the historic land deal reached by India and Bangladesh during the visit that will mean that tens of thousands of people who reside in the border region between the two nations will now be allowed to choose their country of residency. One assumes that was, in part, what Modi himself took away from the visit.