Every Film Shoot in New York, Mapped
Metrocosm plotted film permit data across the five boroughs.
By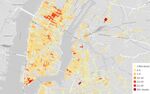 In New York City, film shoots are so common that they seem banal. Residents scarcely bat an eye at camera booms and flood lights. They're used to craft services tables and talent trailers taking over the street. Now a map by Max Galka and Steve Melendez shows just how ubiquitous these productions are—and gives fans a tool to discover the real-life backdrops of recent films.
Using data from the Mayor's Office of Film, Theatre & Broadcasting, Metrocosm mapped all the film permits issued in New York from 2011 to 2013, totaling 517 movies and 17,241 locations. (The data only applies to permits issued for movies, not TV shows.) Click a street to see a list of projects filmed there, or filter by title to find all of a movie's New York shooting locations.

There are clusters of activity in Manhattan's Times Square and Financial District—frequent targets for on-screen destruction—and at Queens' historic Kaufman Astoria Studios and Brooklyn's 47th Regiment Armory. But coverage is remarkably widespread across the boroughs. In fact, the volume of New York film production has soared in the past couple years, fueled by financial incentives and other film-friendly policies.
Since the map's permit data stops at 2013, you can't use it to locate film shoots in progress. For that, you'll have to turn to crowdsourced tips from sites like On Location Vacations and On Location Tours.
Or you could just be patient. If you live in New York, it's only a matter of time before you spot another movie in the making.